Live streaming has been gaining ground these days.
Celebrities live stream on YouTube interacting with fans; gamers live stream on Twitch to speedrun Minecraft while influencers live stream on Facebook for a product release. It seems that live streaming has become a game-changer overnight for higher sales and wider audiences.
On the other hand, live stream videos are great visual content for social sharing, podcasts, blog posts, or later viewing. Just as how hard you prepare for the live stream, you can't be too careful when deciding how to capture streaming videos online.
So, in this post, we will walk you through 3 viable ways to record a live stream worth sharing.
Contents:
Currently, there are 3 options to record a live stream:
Use live stream software to broadcast while recording a live stream
Use professional video streaming and recording device to record a live stream
Well, different strokes for different folks. We will explain the pros and cons of different live stream recorders for you in detail later.
How to Record a Live Stream by Online Screen Recorder
If you just wanna quickly screen record a live stream for personal viewing later and the scheduled live stream won't be too long, then using a reliable and versatile online screen recorder can be a perfect option.
Recommended for You:
If you won't live stream yourself, but only records live streaming videos of others on YouTube, Facebook, Twitch, Twitter, etc
Don't want to download stream recording software, extension, or screen recorder to record a live stream
Newbies or not a tech-savvy person
Here we have two recommended online screen recorders for you to instantly record a live stream for free.
1. RecordCast
RecordCast is an easy-to-use in-browser screen recorder with a user-friendly built-in video editor. You can easily access its online screen recorder and customize its recording settings for a Chrome tab or application window to record all live streams with both internal and mic audio across platforms on PC.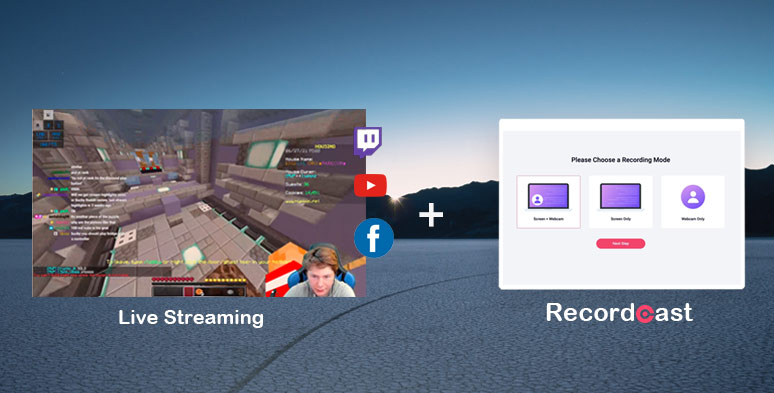 Record live streaming gameplay by RecordCast
After you are done with the recording, you can use RecordCast's video editor to trim unwanted parts of the recordings or add texts, audio, images, or video footage to turn live streaming video into a well-designed video for social sharing or blog post.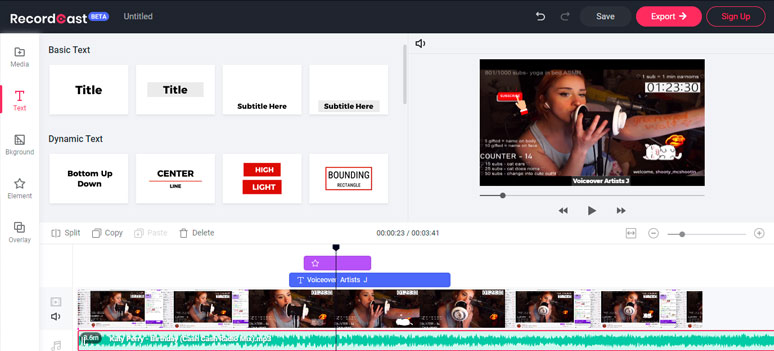 Refine the recorded live streaming videos by RecordCast's video editor
Besides, there is no watermark as you download the video in MP4 (1080P) to the local drive. You may also directly share it to YouTube or Dropbox. The only limitation would be that the maximum recording time is 30 mins at a time. So, you gotta be careful with that.
2. Screenapp
Screenapp is another ideal online screen recorder that helps you quickly record a live stream with no strings attached. You can either select a screen or screen and webcam to record, with mic or browser audio included respectively.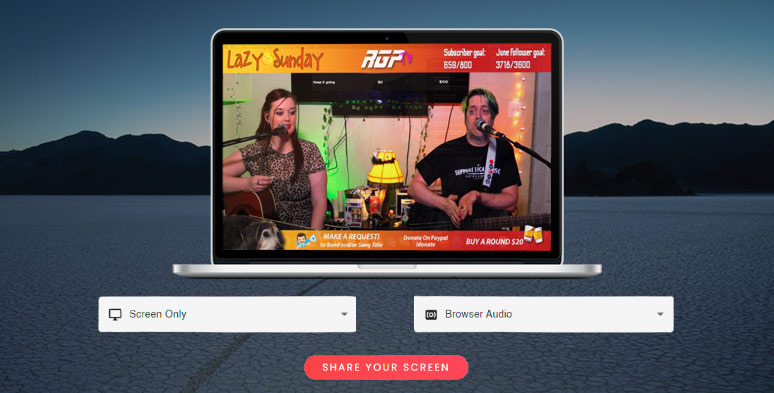 Record live streaming concert on Twitch by Screenapp
Its minimal recording interface is super easy to use. After you finish recording a live stream, you can download the recording in WebM to your computer.
The only drawback would be there is no video editor for you to edit the recording promptly. Besides, you can't record a live stream with both mic and browser audio on if you wanna join the discussion of a live stream. And the 15min recording limit might be too short for many.
How to Record a Live Stream by Live Streaming Software
Well, if you are an online streamer yourself, then using a designated live stream software to record a live stream would make more sense and allow you to enjoy much more versatilities.
Recommended for You:
If you need the flexibilities for live mixings, like tweak between different camera sources, switch audio, or have cool live streaming video effects such as green screen, etc.
Amid dozens of live stream software, we handpicked two for you. One is completely free to use while the other allows paid users to use its recording feature but it is worth every penny spent.
1. OBS
Built to be a feature-packed screen recording and live streaming software, OBS or Open Broadcaster Software is undoubtedly the most popular live streaming software with a huge community of global users.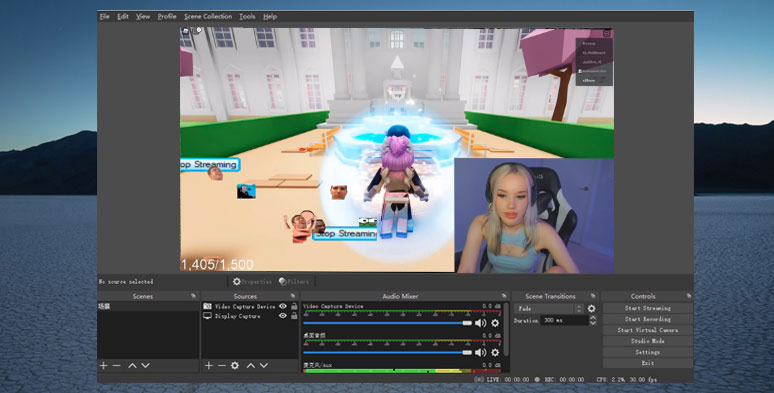 Use OBS to record live streaming gameplay
Not only is it free for use, but is also open-source live streaming software across platforms (Mac, Windows, and Linux). You can add unlimited scenes and sources and easily switch between your webcam and screen sharing.
Besides, you may directly customize an RTMP and live stream to YouTube, Twitch, Facebook, etc. with green screen features, audio mixing, scene transitions, etc.
To record a live stream by OBS, all you need do is first choose the scenes and sources like webcam or screen for broadcasting and customize the recording button and output video format. Then you are ready to go.
Well, overall, OBS is a gem of live streaming and screen recording. If there is a flaw, that would be it does take a while for new users to figure out the complex buttons on its interface and it can't use an audio file as a source for live streaming.
2. Restream
Restream is a professional live streaming software that has tons of high-end features that won't break the bank.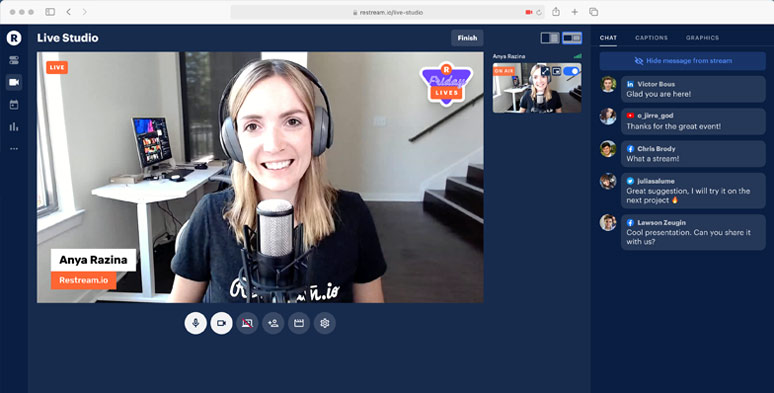 Use Restream to automatically record a live stream
Why You Need It:
If live-streaming is your daily job and you need long hours of live stream recording and more professional tools for live stream
Want to monetize from the audience by live streaming
The stream recording feature is available to monthly paid subscribers, starting from $16 per month. Then you can live stream to 30+ platforms and enjoy automatic streaming recording for up to 6 hours and your recording will be stored in Restream for 15 days.
Its live streaming studio allows you to enjoy on-screen comments and captions and customize Chat overlays or templates. You may also play the background music and invite stream guests and even have in-depth analytics for viewers and chatters.
The only downside would be that the free version has no recording features and the ability to stream pre-recorded videos is only available to a professional subscription ($41/month).
How to Record a Live Stream by Pro Video Streaming and Recording Device
If you believe that an online screen recorder or live stream software is the only solution to record live streaming videos, think again.
In fact, the ultimate way to record a live stream for the highest video and audio quality is by using a professional video streaming and recording appliance, because it separates the recording from live streaming through the internet. So, the video quality won't be affected by internet bandwidth.
Recommended for You:
If you want to record the most stable and highest video and audio quality while live streaming, such as online concerts, college professors giving online lectures, surgeons performing public medical procedures, etc.
If you have a decent budget and want to take your live streaming recording up a notch
Here we have a professional video streaming and recording device for you:
1. Matrox Monarch HD
Matrox Monarch HD is a lightweight and professional live streaming device built for a video producer to stream a live event on YouTube and Facebook, Adobe Flash server, etc. It is connected to your camera or switcher through an HDMI cable and records 1920x1080 HD video in MP4 or MOV file to SD card or USD.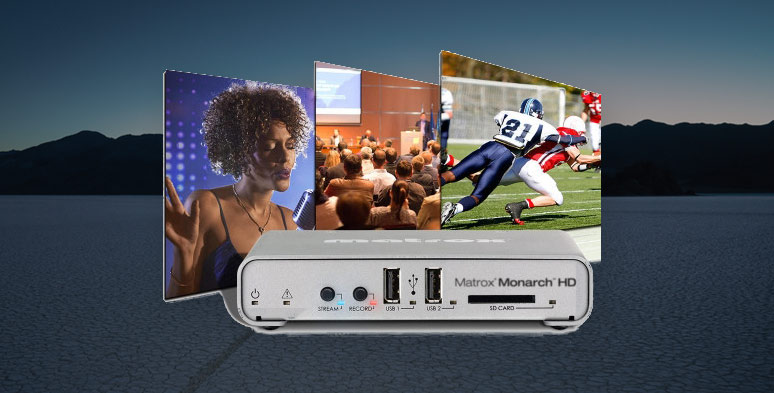 Use Matrox Monarch HD to record a live streaming lecture
Well, while the professional live streaming recording device brings you stable and high-quality recording, the invariable downside is its expensive price tag. It will set you back $945.00 for a single piece. Definitely, not for ordinary gamers or freelancers.
Final Thoughts
So, which solution works best for you to record a live stream? If you are a student or a gamer, using a free and flexible live streaming recorder like RecordCast or mighty OBS can surely satisfy most of your recording needs.
If you a professional live streamer, then Restream can give you more full-customizable features for video and audio mixing during a live stream. For the ultimate live stream recording quality, the professional video streaming device is your man. Or if you have better solutions, don't forget to share them with us on our Facebook.