Briefs: How to record a YouTube video? Check our free online solution to record any YouTube video you want. It's only minutes away.
YouTube is the largest online video platform with nearly all kinds of videos available. By recording a YouTube video, people can save a short version of a video & clip as they want and directly use them at any other time.
Whether you want to record fun videos as your social media juicy, or you need to save an online teaching course from YouTube for later review, a screen recorder for YouTube can help a lot.
Searching online solutions about recording a YouTube video, you'll only to find out many tips suggesting this and that with complicated recording phases. - They are never the optimal recording solutions you desire!
Read through the article, you'll have a delightful screen recorder free online. In mere steps and minutes, you can record your wanted YouTube video freely. The best part? No installer needed!
Part 1 - YouTube Video Recorder Free Online
Need to record a YouTube video? Free YouTube video recorder, RecordCast can help you out. It enables users to record a YouTube video at a time you prefer. It is a no-brainer video recorder that allows users to capture a video within 30 minutes free online. Just spend minutes with it, you'll finger out how to save your wanted version of a YouTube video easily.
Advantages:
Support recording streaming videos on YouTube (or other streaming platforms).
Record videos on a video player or a browser tab.
Easy to record steps video/issues-solving video with your own voiceover.
No downloader, easy & free to use online.
Handy to edit your YouTube recording videos.
It allows you to record 30 minutes. Learn 3 easiest ways to capture streaming video online.
Part 2 - How to Record a YouTube Video in High Quality?
Step 1 Open/play a YouTube video with a browser/video player, pause the video when you want to start recording the video here.
Step 2 Open RecordCast in a browser tab, hit [Start Recording] to proceed.
Step 3 Pick a mode you like among 3 recording modes. It allows you to choose from picture-in-picture "Screen+Webcam", "Screen Only" and "Webcam Only". For YouTube video recording, you can choose either "Screen+Webcam" or "Screen Only".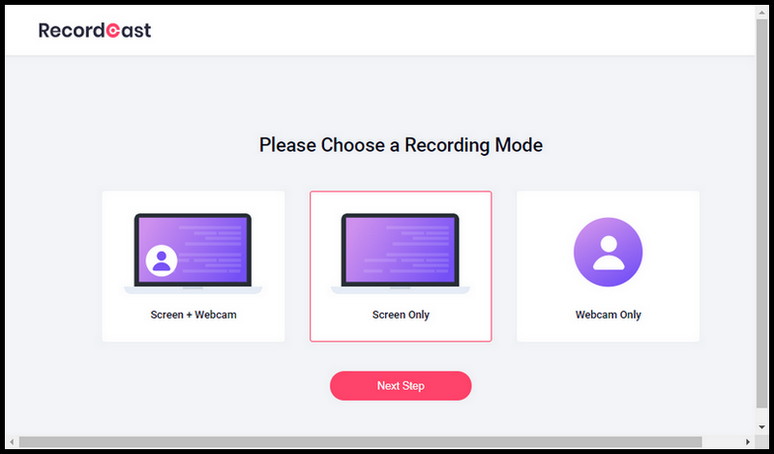 Image: Select screen recording mode.
Step 4 Choose audio for your YouTube recording:
- If you don't want any audio in the recording, choose "No audio".
- Need to use your own voiceover to explain the video? Go to the option of "Microphone".
- If you choose "System audio", your recording YouTube will only have its original audio.
- "Microphone + System audio" will capture audios from your speaker and YouTube video at the same time. However, the result might have some uncomfortable sounds when two audios don't rhyme. Check how to record Netflix movies & TV shows on PC.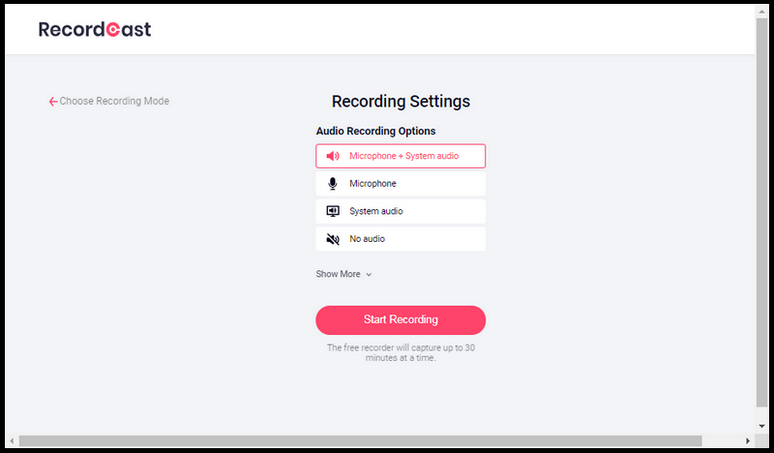 Image: Choose audio for recording.
Step 5 Select your target recording screen.
- For YouTube recording, you can go to the tab of "Your Entire Screen", and play YouTube video in full screen (Keystroke F11).
- If you play a YouTube video via a video player, choose "Application Windows" and find your video player to record.
Part 3 - How to Edit & Customize Your Recording YouTube Video?
By editing your recording YouTube video, you can mix your own thoughts and creativity with the video, so that you'll have an upgraded (or even new) video. RecordCast has a simple video editor for recording videos. With it, anyone can make an awesome video easily immediately after recording his favorite YouTube.
Step 1 Hit "Media" tab and [Browse my files] button to upload your recording YouTube videos.
Step 2 Drag and drop the video onto the editing track and move their sequences following your mind.
Step 3 Customize your video with texts, elements, overlays and masks. You can also adjust the size of footage.
Step 4 Download your editing YouTube video as an MP4.
Part 4 - Final Words
Recording your favorite YouTube video is way easy as long as you have RecordCast. Whether you want a direct YouTube recording or need to make some changes, they are only clicking away.