You've tried a bunch of screen recorders. Yet none really worked well with the Linux system or met your personal needs. No worries, my friends!
In this post, we will introduce you to 8 Linux screen recorders of all time that every Linux user should have. All of them are 100% free, fully customizable, and compatible with the Linux system.
A few support both screen recording with webcam and can output MP4 or GIF screencast; some can highlight the cursor or has zoom in/out features; while others are light-weight, exceedingly user-friendly for beginners, etc.
So, without further ado, let's quickly grab your favorite Linux screen recorder and test how sweet it is for capturing your screen on Linux.
Contents:
Top 8 Linux Screen Recorders You Deserve
Top 8 Linux Screen Recorders You Deserve
1. RecordCast (record, edit, all-in-one)
Dedicated to giving you wings for screen recording and video editing, RecordCast is an all-in-one online screen recorder and video editor for everyone. You can easily use it to record any screen, application, or record any chrome tab, including your webcam.

Use RecordCast to record screen on Linux
Meanwhile, both internal system audio and microphone audio can also be recording during screen recording. After your recording is done, you can preview the recording live and use its versatile built-in video editor to trim video, add music, text effects, dynamic elements, colorful backgrounds, overlays, etc, and finally export recordings in MP4 to your hard drive.
Recording Features:
Record screen + webcam, the entire screen, application, chrome tab
Record both system audio and microphone audio
Promptly edit recording in versatile video editor
Export video in MP4 (1080p)
No software download needed
Edit files locally, private and secure
Limitations:
Maximum 30 mins recording each time
Can't drag and drop to record a specific area
Copyright Infringement Reminder
Well, though technically you can record any screen activities with ease by RecordCast and the rest of screen recorders below, you have to bear in mind that any attempt to record a copyrighted online content without permission from the host and parties involved is illegal.
Meanwhile, if you distribute or make profits by selling these unauthorized copies, it also constitutes copyright infringement and violation of privacy and will put you in trouble.
So before you record your screen, it's advisable to refer to the local law or get permission from the owner of the online content and parties concerned in the first place. RecordCast is not liable for any intentional or unintentional copyright violation.
2. Kazam (light-weight, beginner-friendly)
Kazam (or Kazam Screencaster) is a well-crafted Linux screen recorder that enjoys a minimal interface and is extremely user-friendly to newbies. If you have "decidophobia" and want to get things done quickly. You can use it to create a screencast and screenshot in minutes.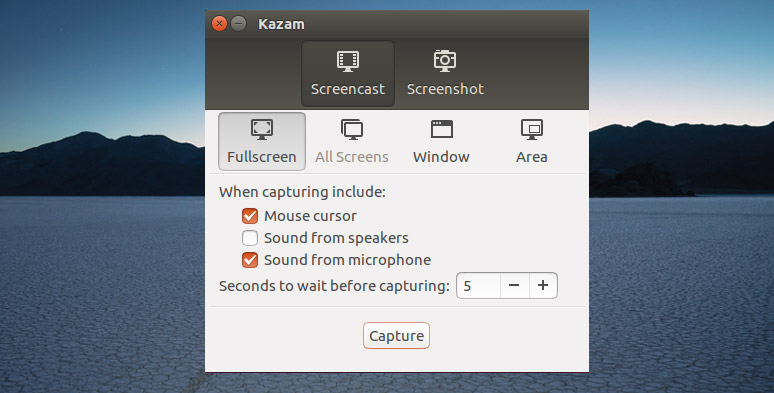 Kazam Linux screen recorder
Recording Features:
Capable of screen recording and screenshot
Record entire screen, multiple screens, window, selected area
Record internal audio and microphone audio
Set recording countdown timer
Limitations:
Can't record both screens with webcam
Discover the 10 Best Free Screen Recorders in 2021.
3. Peek (great GIF screen recorder)
Peek is another super simple Linux screen recorder that allows you to make a selection of your screen for recording and export recordings in light-weight GIF, or silent WebM and MP4. It is quite popular amid web developers for using Peek to report a bug with its small and clear GIF.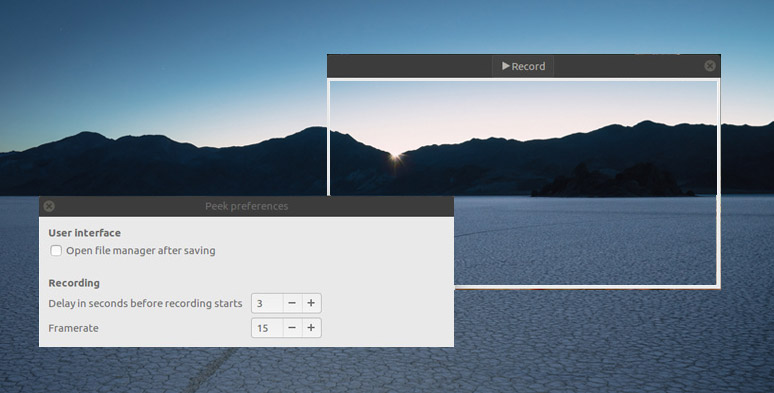 Use Peek Screencaster to record screen for GIFs
Recording Features:
Minimal and easy-to-use recording interface
Record selected area on the screen
Output recordings as small GIFs or silent WebM, MP4
Limitations:
Can't include webcam while recording screen
4. OBS Studio (powerful, versatile)
OBS Studio is a giant in the field of free and open-source software for screen recording and live streaming. You have awful lots of high-end features for video and audio mixing, customizable transitions and monitor different screens and even a studio mode available.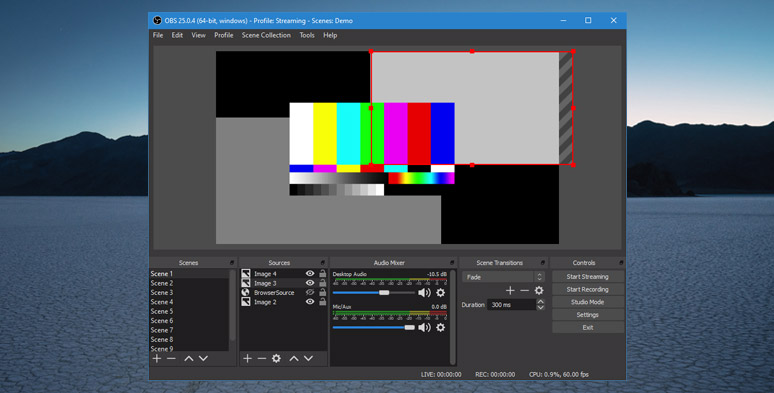 Use OBS Studio for screen recording on Linux
Recording Features:
Screen recording and live streaming, presets
Recording anything on your screen
Lots of customizable buttons for video and audio recording
keyboard shortcuts for recording and editing
Limitations:
Takes more time to figure out the configuration
Size of recording files is big
Find out how to record a Zoom meeting using OBS Studio.
5. SimpleScreenRecorder (fast, efficient)
Faster than VLC and FFmpeg, SimpleScreenRecorder is screen capturing sweet for Linux users. It's a Qt-based screencast software on Linux, identical to the Fraps on windows and runs on your computer with limited processing power.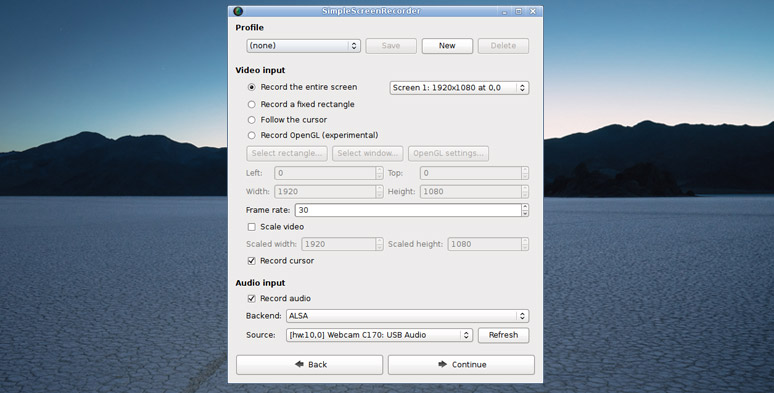 SimpleScreenRecorder is simple and powerful for screen recording.
Recording Features:
Record entire screen, fixed rectangle, application window, multiple screens
Capable of following the cursor
Lots of codecs to choose from
Multiple video output resolutions
A wide array of file formats
Limitations:
Takes a while to figure out all the figuration for beginners
Check the 3 Easiest Ways to Capture Streaming Video Online.
6. Vokoscreen (picture in picture; zoom in/out)
Vokoscreen (or VokoscreenNG) is an easy-to-use and flexible screencast creator for Linux users. It's one of the few Linux screen recorders that allow you to capture both of your screens with a facecam or webcam, making it a go-to choice for educational videos or recording how-to tutorials.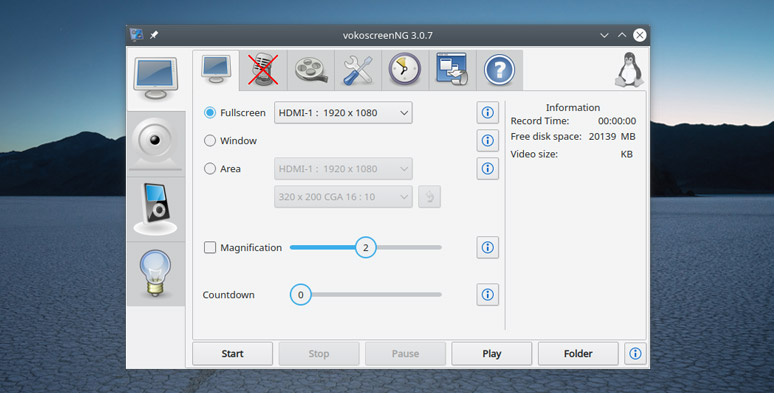 Vokoscreen has a flexible zoom-in feature while capturing your screen.
Recording Features:
Record entire screen, rectangle, window, multiple screen
Display webcam in the picture while recording
Display keystrokes & clicks
Pause/resume/stop for recording
Limitations:
Does not support AppImage format or RPM file
7. Green Recorder (Wayland display)
Green Recorder is the first and only Linux screen recorder that works with Wayland. It also supports recording video and audio on all Linux interfaces. With its intuitive design, you can easily navigate yourself for screen recording without any issue.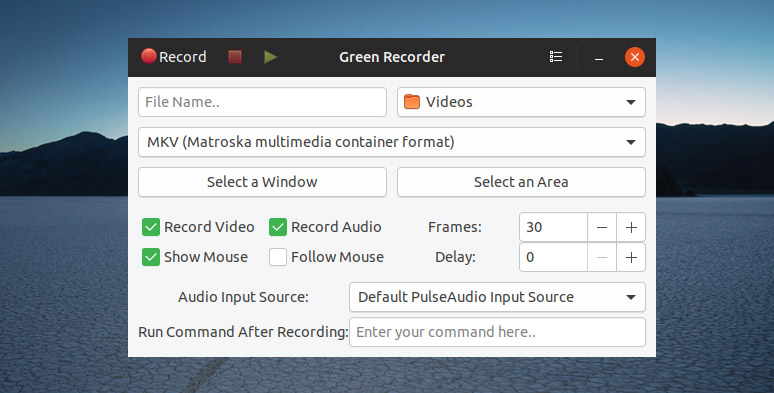 Green Screen Recorder can output multiple video formats.
Recording Features:
Record entire screen, rectangle, window with audio
Record as GIF, MP4, MKV, NUT, AVI, WMV
Record countdown settings
Limitations:
Can't support webcam while recording
8. Deepin Screen Recorder (simple GIF recorder)
Deepin Screen Recorder is another super simple Linux screen recorder for beginners. You choose the recording area and press the recording button and hit stop. And the recording will be saved to your desktop. Everything is done. That's it.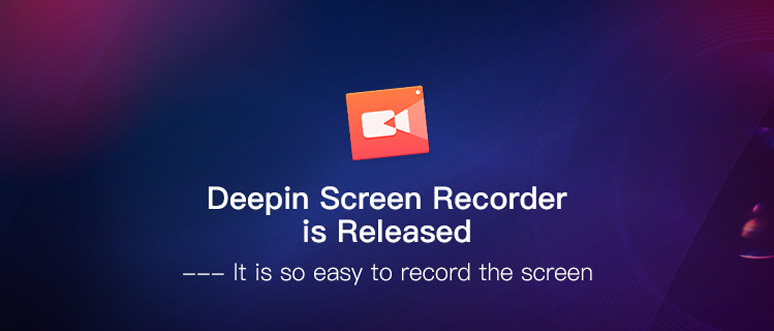 Deepin Screen Recorder is one of the latest screen capturing tools for Linux users.
Recording Features:
Record entire screen, rectangle, window
Limitations:
Sometimes, the recording can be unstable
Lack of customization features
Final Thoughts
So, having seen all of these 8 Linux screen recorders, which one you find most interesting and helpful for your use? If you enjoy our article, don't forget to share it with your friends or on your Facebook, much appreciated.