Capturing high-quality gameplay on pc is a must-have Kung-fu for every gamer to share their joy or run a gaming channel. With correct methods, you can also do it with ease just like other gaming influencers on YouTube or Twitch.
In this post, we will unveil the best way to record gameplay on pc, i.e. having the right computer gears, the best screen recorder for gaming, and the proper setups for game recording. So, without further ado, let's find out together now.
Contents:
Get the Right Computer Gears to Record Gameplay on PC
To record the smooth gameplay with HD video and quality audio, the basic thing is to ensure that your computer can perform well while running and recording the gameplay simultaneously.
So, the first question you gonna ask yourself is "Is My Computer Ready for Recording?".
What specifically we mean is that can the CPU, GPU, and RAM (Memory), the holy trinity for gaming, of your PC live up to the minimum or recommended system requirements of a particular PC game?
Take the minimum system requirements of Minecraft and Final Fantasy XV for example:

Minimum system requirement battle: Minecraft vs Final Fantasy XV
Minimum System Requirement for Minecraft:
CPU: Intel Core i3 3210 | AMD A8 7600 APU or equivalent
GPU: Intel HD Graphics 4000 | NVIDIA GeForce 400 Series | AMD Radeon HD 7000 series
Minimum System Requirement for Final Fantasy XV:
CPU: Intel Core i5 2500(3.3GHz and above)| AMD FX 6100 or equivalent
GPU: NVIDIA GeForce GTX 1050 | AMD Radeon R9 280
As you can tell that the blocky Minecraft with lower pixels is much less CPU and GPU intensive than that of the Final Fantasy XV, the blockbuster game. As you play and record gameplay simultaneously, these two moves will put more demand on CPU, GPU, and RAM.
So, before you record gameplay, you've got to check if the specs of your PC can meet the minimum system requirement of your game. Besides, having a powerful CPU, GPU, and more RAM will prevent the drop of frame rate, computer crash, and lagging while recording the gameplay.
Apart from RAM, another crucial component for recording gameplay is storage. You have two choices, i.e. SSDs (solid-state drive) vs HDDs (hard disk drive).
For gaming and gameplay recording, it's highly recommended to use SSDs for storage because not only are SSDs more reliable than HDDs but also can access data way faster than HDDs with less power and longer battery life. It works esp. for recording gameplay with high resolution (1080p or above), fps, and bitrate.
Pick the Best Screen Recorder for Gaming on PC
To capture your gameplay with the best quality, you also need to carefully choose a screen recorder or game recorder. For different gamers with varied purposes for game recording, we recommend three alternatives for you.
Use Free Online Screen Recorder to Record Gameplay
If you are using Chromebooks for game recording or play and record less CPU/GPU intensive games like Minecraft on a normal computer, then using a flexible online screen recorder will allow you to enjoy smooth game recording and still keep quality video and audio. Check the screen recorders for Chromebooks
Benefits:
No game recording software to download
Use little CPU while recording gameplay
Quick and easy recording for every gamer
A free and popular option is to use RecordCast, an in-browser screen recorder with a built-in video editor. You can easily use it to record gameplay for tutorial videos with 1080p, 30 fps, and 10-15M bitrates and use its video editor to easily trim recordings, add text, dynamic elements, and overlays, etc.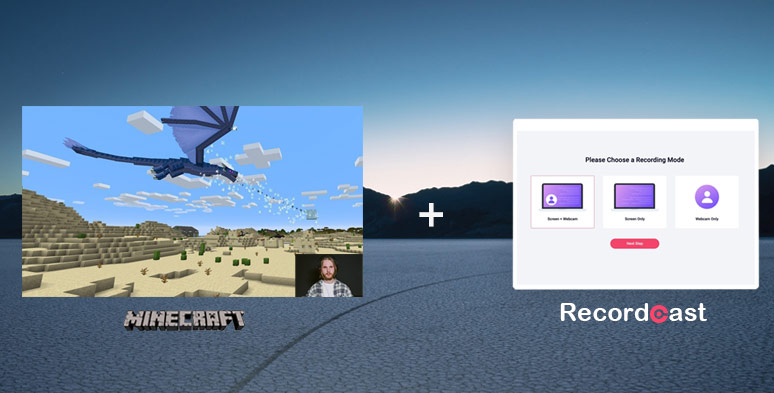 Record Minecraft by RecordCast
Best Features:
Record gameplay with webcam, including both gaming and mic audio
Free and easy-to-use interface for newbies
Promptly edit gameplay recording in video editor with trimmer, text, overlays, dynamic elements, transitions, etc. or import new media sources to create refined videos
With one click for sharing to YouTube or Dropbox
Limitations:
Can't customize exact framerates or bitrate
Not built for game live streaming
Use Gaming Recording Software to Record Gameplay
If you prefer more controls for gameplay or tweak between different sources and have advanced features for recording gameplay, then using tailor-made gaming software would be your best way to record gameplay on a PC.
Benefits:
Enjoy a lot more customizable features for gameplay recording
Capable of pre-recording gameplay or recording gameplay while live streaming
Here, we have 2 free viable options that fit this category for you:
1. OBS
Want to record gaming tutorial videos and start a gaming channel as many YouTubers do? OBS or Open Broadcast Software is a free and open-source screen recorder, esp. for live streaming gameplay across platforms. Check 3 ways to record a live streaming video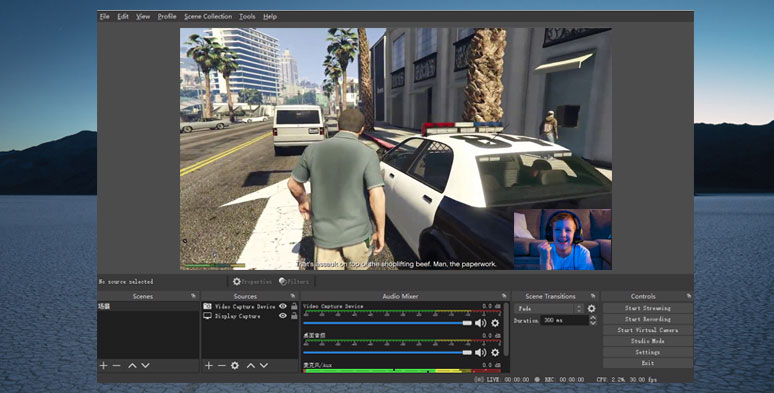 Use OBS to record and live stream Grand Auto Theft
Best Features:
Capture both gameplay with webcam, including internal and mic audio
Tweak between unlimited sources
Support source transitions, filters, green screen, etc.
Customize video and audio recording format, resolution, fps, bitrate, keyboard hotkeys,etc.
Easily live stream to Twitch, YouTube, Facebook, Twitter, Vimeo, etc.
Limitation:
Far complex interface for beginners
High-demanding on CPU and RAM
2. Medal. TV
Well, Medal.TV is a gaming platform that helps you easily share and watch gaming moments with your friends and the gaming community. It can automatically detect your gameplay and record full-screen with system and mic audio with full HD, even 4K resolution.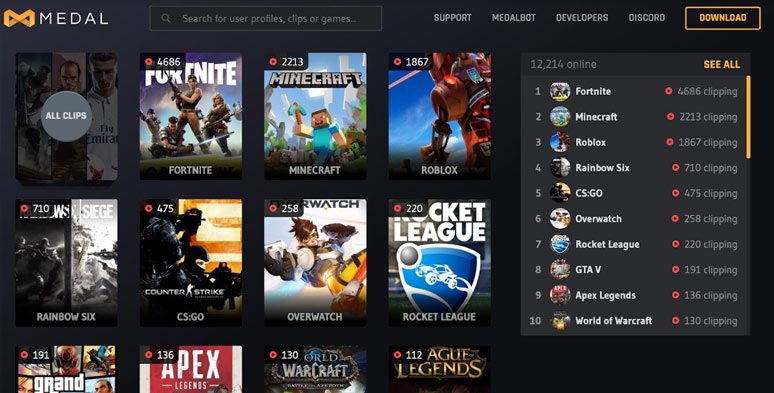 Use Medal.TV to easily record gameplay online
Best Features:
Record gameplay on the desktop app and mobile device
Medium, High, Full HD, and 4K option for full gameplay session recording
One-click share to Discord, TikTok, iMessage, Twitter, Whatsapp, etc.
Easily chat with like-minded gamers and followers
Limitation:
Not available to Mac and Linux system
Use Pre-installed Game Recorder on Your PC to Record Gameplay
If you are a Windows 10 user or currently using either an Nvidia or Radeon graphics card, then the best way to record gameplay on your pc would not be looking for a third-party screen recorder, but use the pre-installed gaming recorder.
1. Xbox Game Bar
For Windows 10 users, just press Win+ G and you can activate Xbox Game Bar. Then, you can customize keyboard shortcuts for recording, etc. Pretty easy. Check 12 best software to record gameplay of all time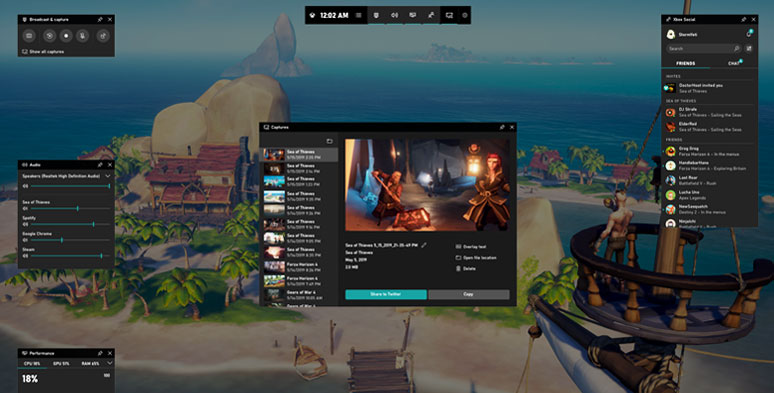 Use built-in Xbox Game Bar on Windows 10 to record gameplay
Best Features:
Record full screen (max 1080P) with system and mic audio
Enjoy voice chat and messaging during gameplay
Won't record configuration windows
Limitation:
Only record gameplay in full screen
Can't record both screen and webcam
2. Nvidia ShadowPlay
While for Nvidia Graphics Card users, the built-in Nvidia ShadowPlay should always come as your first option for gameplay recording. You can easily use it to record and share high-quality gameplay videos, screenshots, and live streams.

Use Nvidia Shadowplay to record gameplay for Nvidia graphics card users
Best Features:
Record HD gameplay, with up to 4K resolution and 60 FPS
Easily make screenshots while playing and recording the game
Capture GIF from the gameplay
Easily live-stream your gameplay to Twitch, YouTube, Facebook, etc.
Has minimal impact on CPU while recording
Limitation:
Can't create a picture in picture effect for tutorial videos with your face
3. Radeon ReLive
Well, if you are using a Radeon graphics card, just go with the pre-installed Radeon ReLive. Pretty much like Nvidia shadowplay. You can use Radeon ReLive to record live streaming, and share the highlights of your gameplay with friends with ease.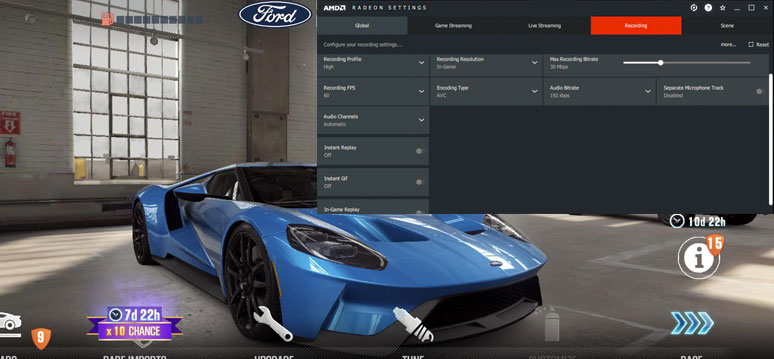 Powerful Radeon ReLive for gameplay capture
Best Features:
Record 1080p and 60fps gaming videos
Awful lots of keyboard shortcuts to video and audio recordings
Allow you to do VR streaming
Easily create in-game replay and GIFs
Limitations:
Too many hidden settings can be confusing to the first-time users
Properly Setup Resolution, FPS, and Bitrate for Gameplay Recording on PC
Now, you have the right screen recorder. Then, let's move to the next step: customize the right settings for gameplay recording. To be more exact, how to correctly set up the resolution, fps( frames per second), and bitrate, 3 of the key elements that determine the quality of gameplay recording.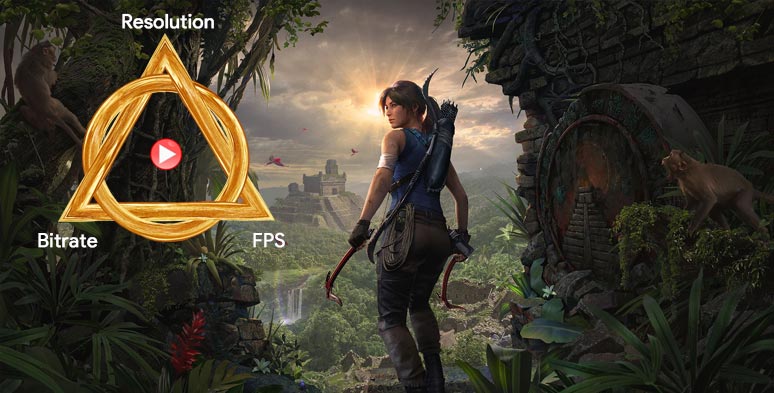 Properly set up resolution, fps, and bitrate for gameplay recording
Resolution: Recording resolution is the number of pixels (dots) used to create an image. Higher the resolutions, more pixels will be used to create the image for the recording videos.
FPS: Frames Per Second means how many video frames the camera captures per second of a video. Though higher fps does not directly produce better video quality, it makes recorded gameplay video much smoother.
Bitrate: Bitrate means the amount of data being transferred into audio. A higher bitrate generally means better audio quality.
Now, you have the basic idea of these three key settings. Great, let's have a case study. If you have the following options, which one will you choose:
Medium: 480p |30 fps|5M Bitrate
High: 720p|60fps|10M Bitrate
Full HD: 1080p|60fps|15M Bitrate
Ultimate: UHD 4K(2160k)|144fps|70M Bitrate
Well, one of the biggest misconceptions is that the higher the resolution, fps, and bitrate, the better the recording video and audio. Well, it's only partially right.
And we recommend you to stay at 1080P, 60 FPS, and 10 to 15M Bitrate, rather than the ultimate 2160k, 144fps, and 70M Bitrate to record your gameplay.
Here are the reasons for the actual gameplay recording:
Unless you have a high-end computer that can handle these settings, your recorded videos will be choppy.
Nowadays, 1080P and 60FPS are the standard formats for HD videos on most video and gaming platforms. And most of the viewers will choose this format for smooth viewing on the internet rather than the ultimate 4K due to the internet bandwidth.
Higher resolution, fps, and bitrate inevitably create large recording files, taking up a lot of memory space, which could be inconvenient for storage on your local drive or the Cloud.
Higher settings don't always equal a better viewing experience! A smooth full HD clip is better than a choppy QHD clip.
Some platforms don't support 4K upload and your clips will be compressed when you publish them, but the original big videos will remain on your computer.
So, the rule of thumb is that you need to strike a balance amid the quality of gaming recording, the size of the recorded file, and the viewer's experience. Simply put, never go extreme at the cost of others.
Final Thoughts
So, if you've made it here, we're sure that you must have learned these 3 best ways to record gameplay on your PC. Now, start using our recommended game recorders to record your gameplay. If you have better alternatives, don't hesitate to reach us on your official Facebook. Your feedback is always more than welcome.