Looking for ways to record your screen on Mac with audio? Look no further. In this blog, we'll introduce you to five of the best Mac screen recorders with audio. Take a look now.
Recording your Mac screen with audio is easy if you have the right tool in hand. There are lots of Mac screen recorders with audio that can help you do that.
In this blog post, we'll introduce you to five of the best Mac screen recorders with audio to help you capture your Mac screen with sound easily. Let's find out.
Also Read: Top 5 Online Screen Recorder with Audio
Part 1. What to Consider When Choosing a Mac Screen Recorder with Audio
1. Features
Currently, most screen recording tools have relatively complete screen recording functions. Here are some of the features you may concern about: recording the entire screen, selected areas, camera, system and microphone sound, capturing screenshots, editing recorded videos, and sharing recordings to popular social media platforms.
2. Ease of Use
For novices, ease of use is critical. In general, online screen recorders are simple and easy to use. While desktop-based screen recording software is more functional and more complicated, they are more suitable for those with recording experience and eager for high-quality recording.
3. Price
Generally, the more features of the screen recording tool, the higher the price. It is necessary to choose a cost-effective screen recorder.
Best 5 Mac Screen Recorders with Audio
1. RecordCast (Free Online Screen Recorder with no Watermark)
Price: Free
RecordCast is one of the best free online video recorders. It works well on all operating systems and allows you to record your screen, webcam, and audio without in your browser. The best part of this online app is that it won't add any watermarks to your recordings. With its built-in video editor, you can even make some edits to your recorded videos, such as trim the unnecessary beginning and ending parts, annotating some areas with shapes, arrows, and texts, adding your own watermark, and more. Overall, it's a good choice if you don't want to download and install any software to your computer.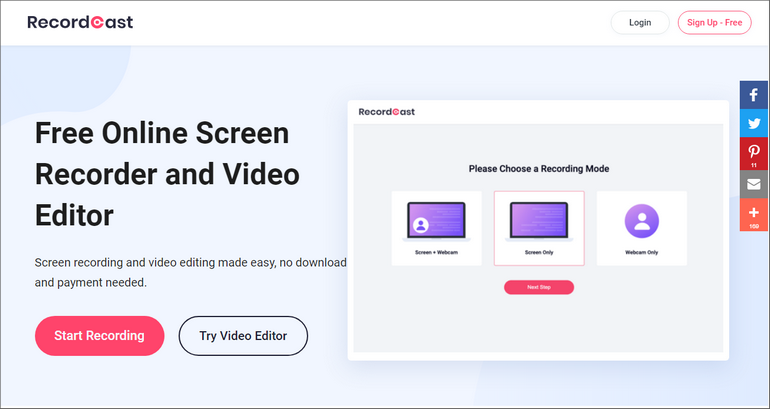 Image Board: Free, Online, Watermark-Free Screen Recorder - RecordCast
Pros
Captures your screen, webcam, browser tab, application windows, etc.
You can record with or without sound.
Cons
Record in MP4 format only.
Copyright Infringement & Privacy Reminder
Well, though technically you can record any screen activities with ease by RecordCast, you have to bear in mind that any attempt to record a copyrighted online video/audio without permission from the owner is illegal. Meanwhile, if you distribute or make profits by selling these unauthorized copies, it also constitutes copyright infringement and will put you in trouble.
So before you use RecordCast, it's advisable to refer to the local law or get permission from the owner of the online video/audio in the first place. RecordCast is not liable for any intentional or unintentional copyright violation.
2. QuickTime Player (Free Media Player and Screen Recorder)
Price: 100% Free
QuickTime Player is a bult-in app on Mac designed for playing media files. But it's more than a media player. You can also use it to record screens, movies, and audio quickly. It also comes with some video editing tools, such as video trimmer, video cutter, video rotator, and more. Check the expert guide to QuickTime screen recording.
Depict Video: How to Screen Record on Mac with QuickTime Player
Pros
It builds in on all Macs.
Meets all your basic recording needs.
Comes with some video editing features.
Cons
Record in MOV format only.
If you've already recorded or made a video yet only to find the audio is not correct, you can try the following ways to replace audio in a video.
3. OBS (Free, Open-Source, Powerful Screen Recorder)
Price: 100% Free
Available on Windows, Mac, and Linux, OBS is an open-source screen recording software aiming to help you record your screen and do live streaming. It wins users worldwide as it is powerful and completely free. Some of its main features are real-time video/audio capturing and mixing, an unlimited number of scenes, and multiple audio tracks.
One big drawback, though, is that it lacks video editing functions. To fine-tune your recorded videos, you'd better turn to a third-party video editor like FlexClip.
Depict Video: How to Use OBS Tutorial Video
Pros
Ideal for video recording and live streaming
Allows you to set up an unlimited number of scenes.
Cons
Complicate for beginners.
No video editing features.
4. Icecream Screen Recorder (All-in-One Screen Recorder)
Price: Freemium
Icecream Screen Record is an easy to use screen recording software that can be used on Windows, Mac, and Android. Not only can you use it to record any area of your screen, your webcam, and the sound from your system and microphone, you can also use it to capture and edit screenshots. In fact, it can do more than that. It also comes with some useful features, such as trimming your recordings, speeding up or slowing down your recordings, converting your recording to any other format, etc.
Image Board: How to Use Icecream Screen Recorder and Review
Pros
Captures your screen, video, and audio.
Records webinars, 3D games, webcam, and more.
Supports converting the format of your recording.
Cons
5 minutes free recording.
Videos recorded in the free version have watermarks.
5. Screencastify (Easy-to-use Screen Recorder Extension for Chrome)
Price: Freemium
Unlike the screen recorder mentioned above, Screencastify is a screen recorder extension for Google Chrome. Its main functions are to record your entire screen and current Chrome tab, capture your camera and audio, and quickly edit and share your recordings. The advantage of the Chrome screen recorder is that once you've installed it on your Chrome, you can quickly start recording by clicking on the extension icon in the upper right corner of your Chrome, even if there is no network.
While what may disappoint you is, you can only enjoy 5 minutes of free recording. And after that, you have to subscribe to its paid plans to unlock more pro features.
Pros
Browser-based video editing technology.
Cons
5 minutes free recording limit.
Conclusion
That's all we want to share with you. In general, all these five Mac screen recorders with audio can help you capture your Mac screen with computer sound and microphone voice quickly. As for which one is best for you, it depends on your needs. Don't forget to give one of them a try when you want to record something with audio on your Mac next time.