Using Skype calls (either video calls or phone calls) has become a popular way to interview a remote guest for a podcast. And knowing how to record Skype video and audio calls should be a basic Kungfu every podcaster should master.
In this article, we will walk you through how to use the Skype recorder and a free online screen recorder to record Skype calls with simple clicks and no plugin or third-party software needed. So you can easily record Skype video/audio calls and import the recordings to the audio editor for your podcast in different situations.
Contents:
How to Record Skype Calls on Windows/MAC
When it comes to recording Skype Calls, the first thing popping up in one's mind would be using third-party software.
However, to your surprise, to meet the skyrocketing demand for recording Skype calls, Skype has already rolled out a new feature called "Call Recording" as early as Sep 2018. And the latest 2021 Skype app (both desktop and mobile) has been compatible with Windows 10, Mac, and Linux.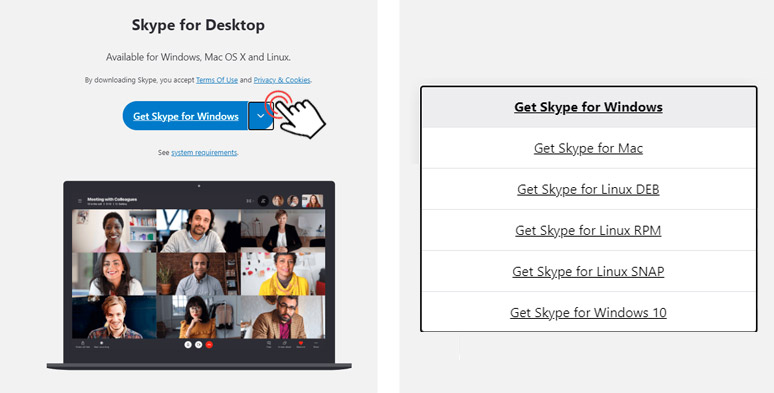 Download Skype desktop app for Windows, Mac, and Linux
Since capturing high-quality audio is essential for a podcast, it's highly recommended to use the Skype desktop app with an external mic for recording. Check the top 5 online screen recorder with audio.
So, here is how you can record Skype video/phone calls on your pc:
Step 2
Start Recording with Skype Recorder
Launch the Skype app and find the contact and start a video or phone call with him/her. Then click on the "+" button at the bottom right side of the screen. Next, choose "Start Recording". Then Skype will record the video/phone call you are having now.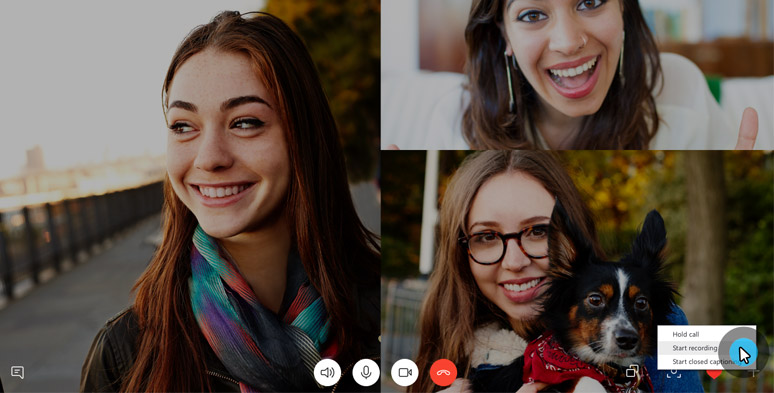 Click on the recording button on the Skype desktop app
Meanwhile, the person having the video/phone call with you will get a notification at the top left corner of the screen, showing you are recording the call.
Step 3
Stop Recording and Download It
To stop the recording, press the "Stop Recording" button at the top left corner before the call ends. Then head to the chatbox, you can see the recording of your Skype call in MP4 format.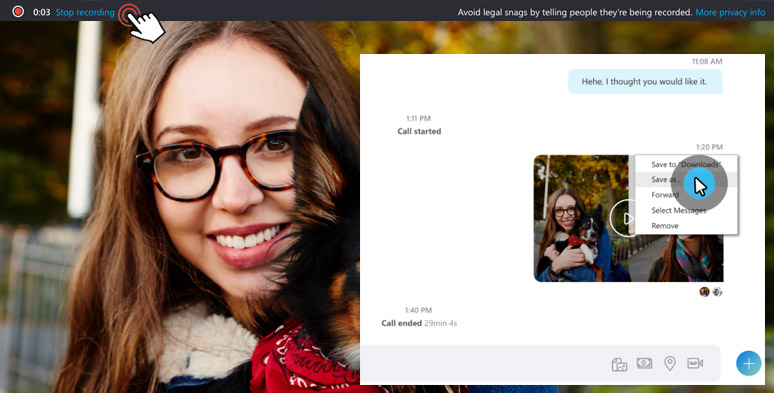 Stop Skype calls' recording and download it in the chatbox
Then, tap the three dots next to the right corner of it, now you can opt to "Save to Downloads". If you don't download it, your recordings are only available for 30 days on Skype.
Remember, only click the "Stop Recording" button to end the recording. If you click the "Hang up" button, all your recordings will be gone forever.
Also, read how to record WhatsApp calls with audio.
How to Record Skype Calls Secretly
Well, in some cases, using a built-in Skype call recorder for recording may not seem like the best option since as you click the recording button, everyone in the chat will get notified.
For example, you wanna secretly record the Skype video call with your girlfriend when celebrating her birthday and later use the video recordings to make a birthday video for her. Or you are trying to record the audio evidence as a reporter or lawyer, etc.
Copyright Infringement & Privacy Reminder
Well, though technically you can record Skype calls with ease by RecordCast, you have to bear in mind that any attempt to record a copyrighted Skype call or private video call without permission from the host or parties involved is illegal. Meanwhile, if you distribute or make profits by selling these unauthorized copies, it also constitutes copyright infringement and violation of privacy and will put you in trouble.
So before you use RecordCast, it's advisable to refer to the local law or get permission from the host of the video call or parties involved in the first place. RecordCast is not liable for any intentional or unintentional copyright violation.
Here, we offer you an easy solution to record Skype calls without party knowing using a free and flexible online screen recorder and video editor—RecordCast.
Step 2
Launch Skype App and Make a Video/Phone Call with the Contact
Step 3
Head over to RecordCast and Set the Recording Mode
Click "Screen Only" and "Microphone +System Audio" to set up the video and audio recording mode for Skype calls. Next, tap the "Start Recording" button.

Choose video and audio recording mode to record Skype video calls
Then a pop-up window will appear giving you the option to select the recording area and whether or not to record internal audio. Do check the "Share Audio" box and find the Skype Application Window and then hit "Sharing". Then everything on Skype calls will be recorded.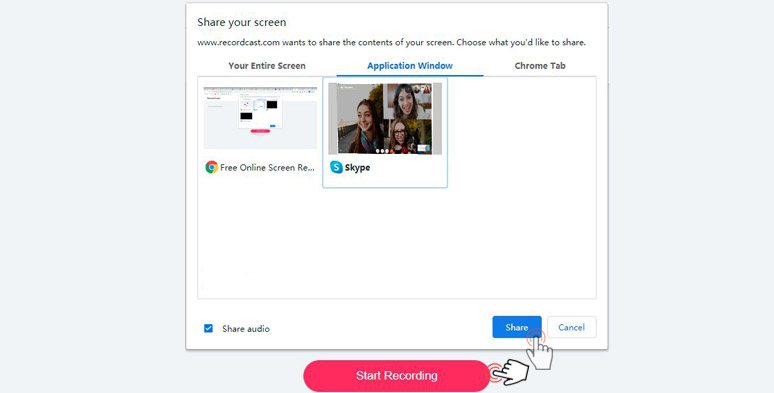 Choose Skype app window to record a video call
Step 4
Stop Recording and Edit Recording
To end the recording, simply press the "Stop Sharing" button. Then you can immediately preview the recording on RecordCast. Next, hit the "Download and Edit" button, your recording in WebM format will be downloaded to the local document folder.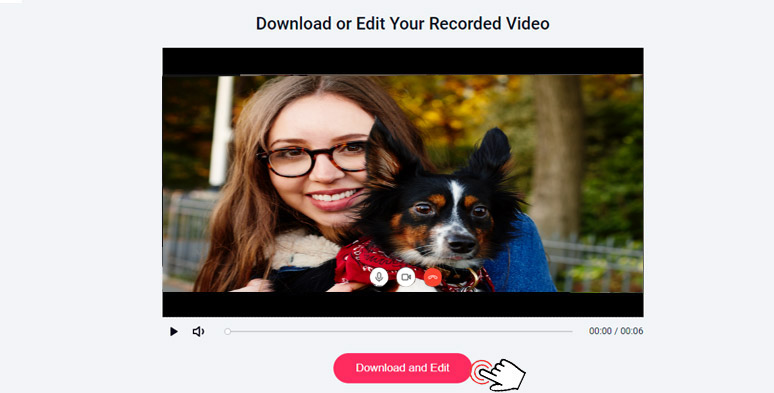 Down and edit your Skype calls' recordings
Meanwhile, your recording will also be imported to RecordCast's built-in video editor for further editing. You can add the recording to the timeline and trim the recording or add text effects, images, audio, overlays, and colorful background to make it an engaging video or audio for your podcast or other needs.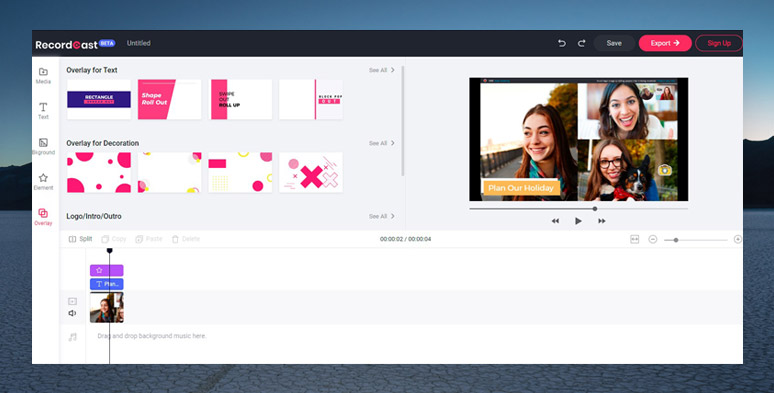 Easily use RecordCast's video editor to edit Skype call recordings
Finally, hit the "Export" button to download the edited recording to your local computer in MP4 (1080P).
Final Thoughts
So, make sure you download the latest Skype desktop and mobile app. Then you can use its "Call Recording" feature to record Skype calls for a podcast without using any plugins and software.
To be able to record Skype calls secretly, using free and versatile RecordCast can be a viable option worth trying. Hopefully, you find our advice helpful and don't forget to share it with your friends.