Google Hangouts video call offers us a free and easy option to chat with friends, family, or colleagues from any corner of the world. Celebrate a birthday with your loved one living overseas; interview a VIP client or join a formal business meeting, etc.
Every so often, we find that there is a need to record Google Hangouts video calls to look back on or share them with absent teammates. Sadly, so far recording Google Hangouts has only been available to paid G suite business users.
So, can you record a Google Hangouts video call whenever you want? Definitely, yes. In this article, we will offer you a step-by-step guide to recording Google Hangouts video calls with audio using free and flexible Google Hangouts recorders.
Contents:
How to Record Google Hangouts Video Calls with Audio
Though many screen recorders are available on the market, the easiest and quickest way to record Google Hangouts is using a free online screen recorder and video editor.
Then reason is simple. No software is to install and it's readily available without any cost so long you have access to the internet. A potential candidate we advise is RecordCast, a free and versatile Google Hangouts recorder.
Here is how you can record Google Hangouts video calls with RecordCast:
Find your contact. Then click on the video call option and wait for the other to accept your video call invitation. Make sure you set up your microphone and webcam properly with ample lighting and uncheck the random display on other software.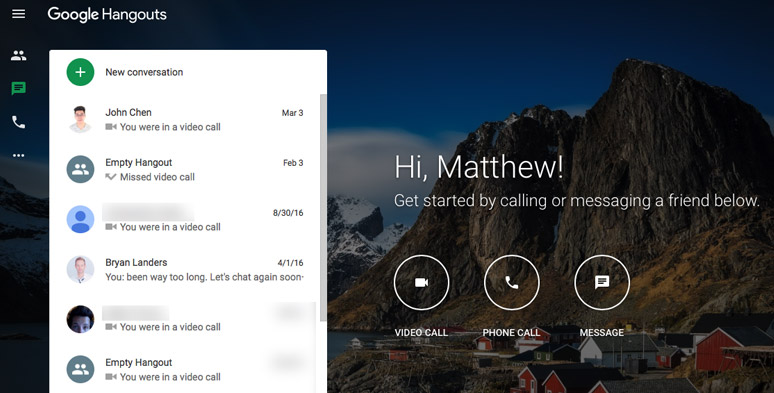 Find a contact in Google Hangouts for a video call
Another two ways to find Google Hangouts: one is the drop-down menu of your google account; the other is inside Gmail, the menu at the bottom of the left panel.
Since Google recently took down the "Video Call" option in Google Hangouts, if you can't see it, you have to
use Google Meet
. To start a video call on Google Meet, choose New Meeting > Start an Instant Meeting > Add Others > Enter the Contact's Email > Send an Email.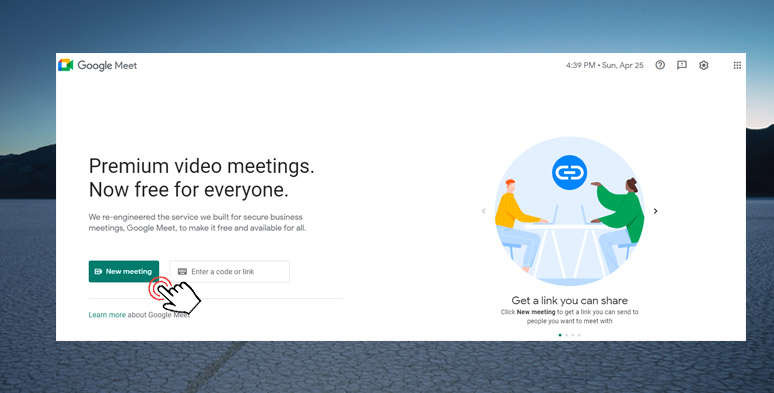 Click to start a new meeting in Google Meet
Step 2
Set up Recording Mode for Google Hangouts Video Calls
Launch RecordCast's online screen recorder and choose "Screen only" and "Microphone +System Audio" to record both video and audio of Google Hangouts Video Calls. Then hit "Start Recording".

Choose your video and audio recording mode first in RecordCast
A pop-up window will remind you to check the "Share Audio" box and the specific Google Hangouts chrome tab for recording. Then press the "Share" button. Now, you can chat with your friends or clients while RecordCast is recording the Google Hangouts video call with audio. Discover how to record WhatsApp Calls with audio.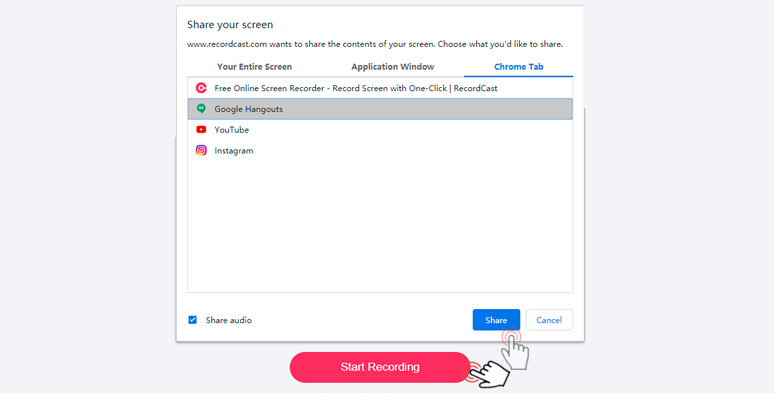 Choose Google Hangouts' chrome tab for recording
Copyright Infringement & Privacy Reminder
Well, though technically you can record Google Hangouts or Google Meet with ease by RecordCast, you have to bear in mind that any attempt to record a copyrighted video call or a private meeting without permission from the host or parties involved is illegal. Meanwhile, if you distribute or make profits by selling these unauthorized copies, it also constitutes copyright infringement and violation of privacy and will put you in trouble.
So before you use RecordCast, it's advisable to refer to the local law or get permission from the host of the video call or parties involved in the first place. RecordCast is not liable for any intentional or unintentional copyright violation.
Step 3
Stop Recording and Download It
Once your video call ends, press the "Stop" button on the top left corner. Then, go back to RecordCast's page. You can preview the recording alive. To download the recording, press "Down and Edit". The recording will be downloaded in WebM format.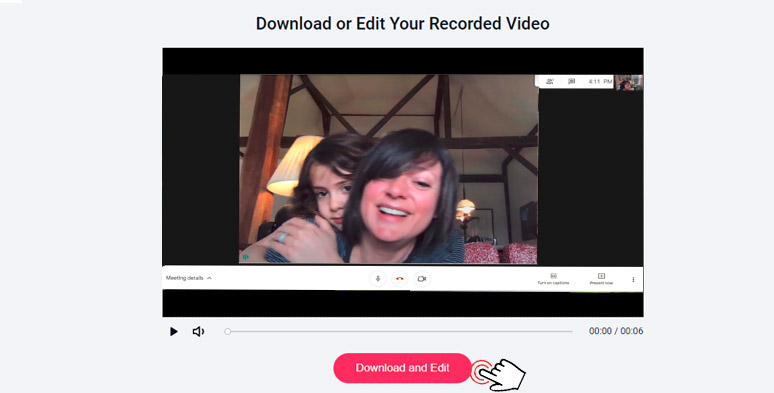 Download and edit the recording in RecordCast
Meanwhile, RecordCast will automatically import the recording to its built-in video editor, where you can trim the recording and add text effects, overlays, or dynamic elements or import your images, audio, and video footage for the editing on the timeline. Finally, you can export the recorded video call in MP4 (1080P) to your local hard drive.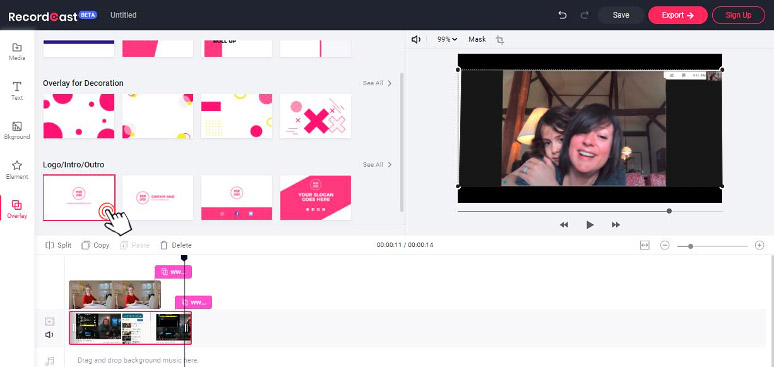 Edit Google Hangouts recordings in built-in video editor of RecordCast
How to Record Google Hangouts on Phone (IOS & Andriod)
To record Google Hangouts video calls on the phone, for iPhone users you can use its built-in screen recorder while if you are using the Android system, you need to download a screen recorder in Google Play.
How to Record Google Hangouts Video Calls on iPhone
Step 1
Switch on the Screen Recorder on iPhone
Go to Settings > Control Center > Customize Controls > scroll down to add "Screen Recording"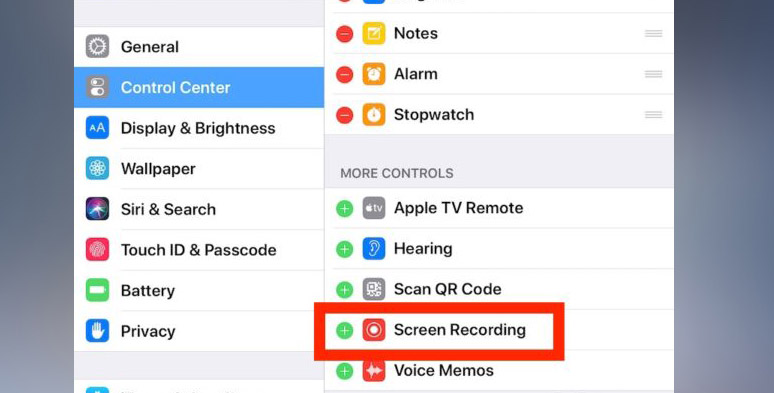 Add the screen recording feature in iPhone
Step 2
Launch Google Hangouts Video Call
Access your Google Hangouts account on iPhone, press the "+" button at the right bottom corner to open the chatbox with a contact. Then hit the video call icon on the top right corner. Then, wait for him/her to answer the video call.
Step 3
Start Recording Google Hangouts Video Call with Audio
Access Control Center by swiping down from the upper-right corner of the screen > long-press the screen recording button, which looks like two circles > press Microphone icon to turn it on > tap "Start Recording".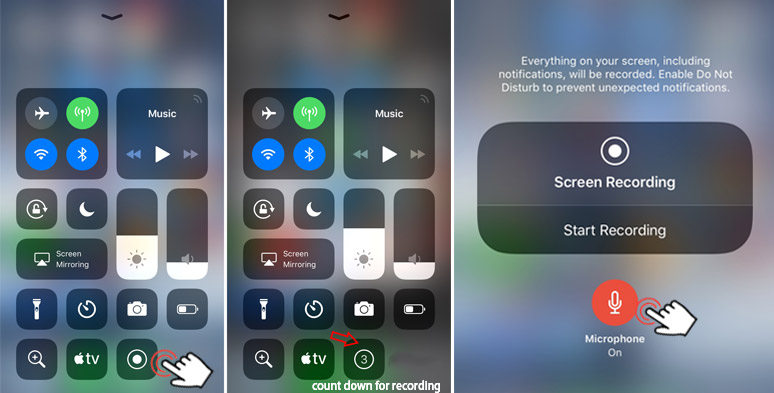 Tap the screen recorder of the iPhone to record Google Hangouts
Then, you can go to Google Hangout and chat with your friends.
Step 4
Stop and Playback the Recording
Tap the red bar on the top of your screen and press the "Stop Recording" button. Then, the recording will be automatically saved to the photo gallery. Look for more free screen recorders online and for PC.
How to Record Google Hangouts Video Calls on Android Device
Step 1
Download XRecorder and Customize the Settings
Go to Google Play and enter "Xrecorder" (Screen Recorder & Video Recorder) in the search bar to download it, one of the hottest screen recorders for mobile devices developed by the prestigious Inshot corporation.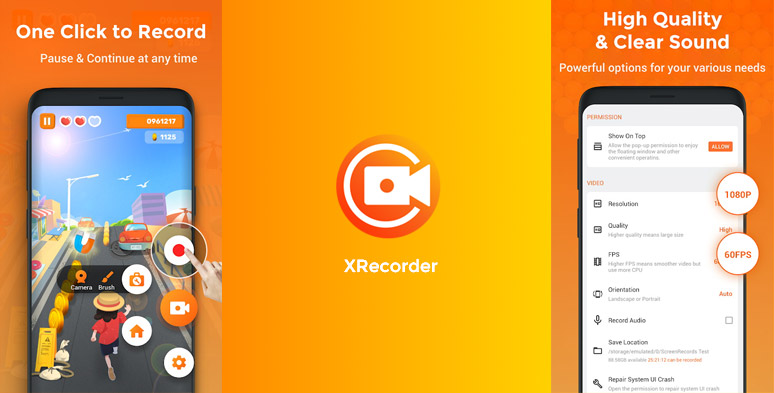 Use XRecorder to record Google Hangouts video calls
Open the XRecorder, give permission to "Allow Pop-up Window" > switch on "Display over Other Apps".
Step 2
Find the Contact and Launch a Google Hangouts Video Call
Step 3
Use XRecorder to Record a Video Call
Go back to your screen > tap the recording button > allow XRecorder to record audio. Then after a 3-second countdown, XRecorder will record anything on your screen.
Step 4
Stop Recording and Replay It
Head back to screen > hit XRecoder button > tap stop recording button. Then your recording will be saved in this app. You can review it in its video album and add text or merge different videos, etc.
Final Thoughts
So, here is how you can record Google Hangouts video calls with audio using RecordCast, a free and flexible online screen recorder, and video editor or built-in screen recorder on iPhone and popular XRecoder on Android device.
Which way is your favorite? Don't forget to tell us or if you have a better way to do so. Now, start recording a Google Hangouts video call with RecordCast.