Lots of screen recorders allow you to shoot screen easily. However, we expect more than just screen recording from screen recorders. To create excellent tutorial videos, training videos and more, you need animations and effects. A tool with screen recorder and video editors will definitely make a time saver!
If you are looking for a screen recorder with editor, this post is just right for you. After thousand times of trial, we listed the best screen recorder and video editors online free to use. Check the following content out and see which screen recorder and editor is right for you. Stay tuned!
The Best Free Screen Recorders and Video Editors Include:
* Online Tools:
1. RecordCast
2. Screencast-O-Matic
3. FlexClip
4. Apowersoft
* Software:
1. OBS Studio
2. Camtasia
3. Active Presenter
4. Ezvid
Best Free Online Screen Recorders with Editor
1. RecordCast
RecordCast is the number online screen recorder and video editor working on any computer. As a screen recorder, RecordCast enables you to record the webcam or the screen with audio easily. In a few clicks, you can start recording. What makes this tool outstanding from others is that it can help you record screen and webcam at the same time! The recorded video's quality will be high. The default video editing tools are also powerful even though the editing tools are on Beta version. Most importantly, it puts no tedious watermark to the video, or charges any penny on its users.
Pros:
Cons:
1. Record the system audio/voice-over.
1. No video sharing options.
2. Record full screen is allowed.
3. Recording screens at high quality.
4. Screen/webcam simultaneous recording.
5. No watermark/Ads.
6. Free.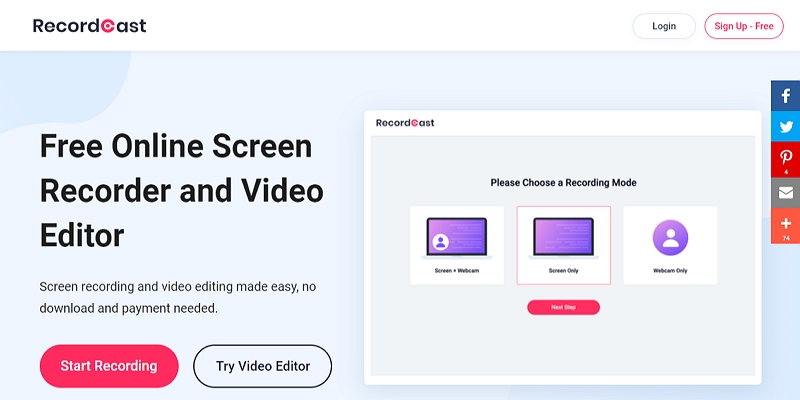 RecordCast Overview
2. Screencast-O-Matic
We like RecordCast, but Screencast-O-Matic comes at a very close second. Unlike RecordCast that has a very generous recording limitation of 30 minutes, Screencast-O-Matic only allows you to record for 15 minutes. So, this online tool is only good for those who want to create short videos. It's screen recording tools are very easy to catch up with. It also has great simultaneous recording feature. However, the video editing feature is something to be criticized.
To access all video editing features, you should either start a 30-day free trial, or pay to unlock them. Screencast-O-Matic provides lots of advanced editing features like transitions and overlay, but none of them seem easy to use. Besides, a watermark will be added.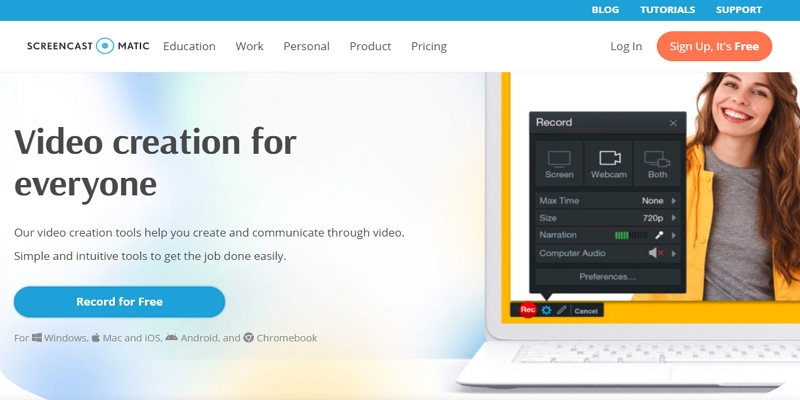 Screencast O Matic Overview
3. FlexClip
FlexClip is known as an online video editor. Recently, it added the video recording feature. The screen recording feature helps you capture the screen or the webcam in the highest quality. Click and record, then your screen recording will be added to storyboard for editing. Undoubtedly, it has the most powerful editing tools. Lots of advanced editing features are free to use, like changing video speed, muting video or adding subtitles to videos. More than that, FlexClip also provides a media library that contains royalty-free music, photos, and video clips for users. We strongly recommend FlexClip for users who need video editing features more than recording.
Pros:
Cons:
1. No download, no registration.
1. You can only download videos in MP4.
2. No watermark.
3. Powerful editing tools
4. Rich media resources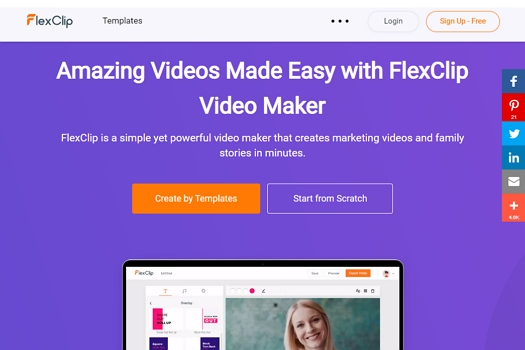 FlexClip Overview
4. Apowersoft
Apowersoft is an online screen recorder with audio and video editors. Download a launcher, select a recording mode, and then you can record your screen or webcam. Apowersoft changed the way you do video editing. It allows you to add notes, icons and more while recording. When you are done with recording, you are done with editing. What's better, it also allows you to export videos in different formats.
Pros:
Cons:
1. Interesting editing.
1. Time limits and watermark.
2. Easy sharing.
2. It takes long to view the replay.
3. Export in different formats.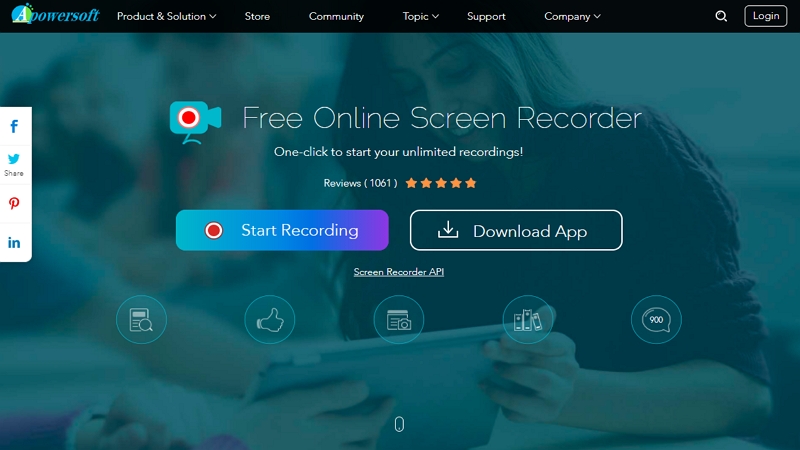 Apowersoft Overview
Best Free Online Screen Recorders with Editor
1. OBS Studio
OBS Studio is a powerful full-screen recorder and streaming tool available for gamers. Using OBS Studio, you will not only record directly from your webcam and microphone, you can also add existing videos and still images, capture a window or portion of your screen and more and broadcast to YouTube or Twitch. Mixing different sources can be a little hard, but if you try, your efforts will pay off. Check the top 5 game recorders free online.
Pros:
Cons:
1. Feature Powerful.
1. Not friendly for naive.
2. Cover all major streaming services.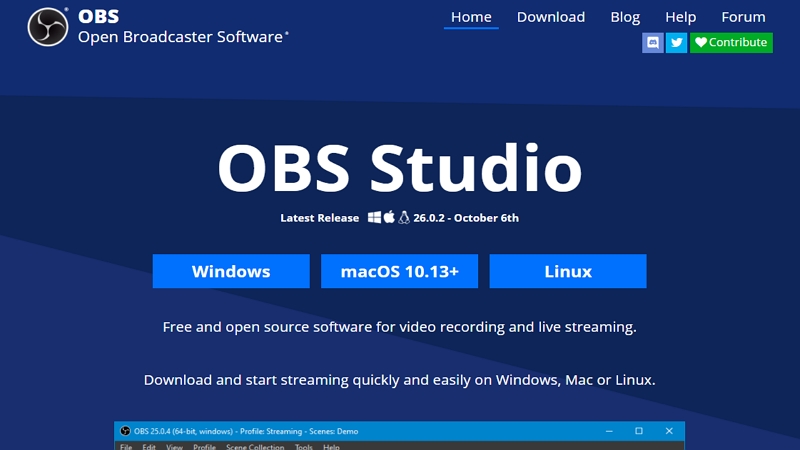 OBS Studio Overview
2. Camtasia
One thing to note at first, Camtasia is not free! The only reason we put it on the list is because it offers 30-day free trial. Camtasia is a screen recorder packed with different features. In terms of recording, it allows you to record video and audio one after another and then combine the result. It is also quite flexible when adding animations and video effects. Its most interesting feature is that it allows users to create interactive quizzes in videos.
Pros:
Cons:
1. Allows to create interactive quizzes.
1. It is expensive.
2. Audios, videos can be edited separately.
2. Messed up interface.
3. Contains media library with music and sound effects.
3. Eats up computer storage and CPU.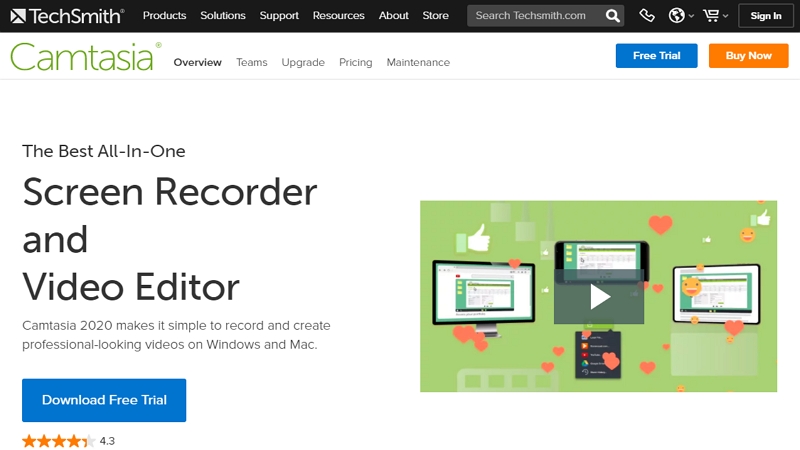 Camtasia Overview
If the pricy Camtasia doesn't look promising, we offer you the best Camtasia free alternatives you rightfully deserve.
3. Active Presenter
Active Presenter is an all-in-one screen recorder, video editor and e-learning software for both Windows and Mac. You are able to capture screen and webcam, record audio and mouse movement at the same time. There is no highlights on the screen record feature, but it provides green screen effect, audio noise reduction and audio fade in/out feature, which will meet your needs for professional editing.
Pros:
Cons:
1. Great for recording PowerPoint slides.
1. It crushes sometimes.
2. Slow response.
3. Unfriendly for new users.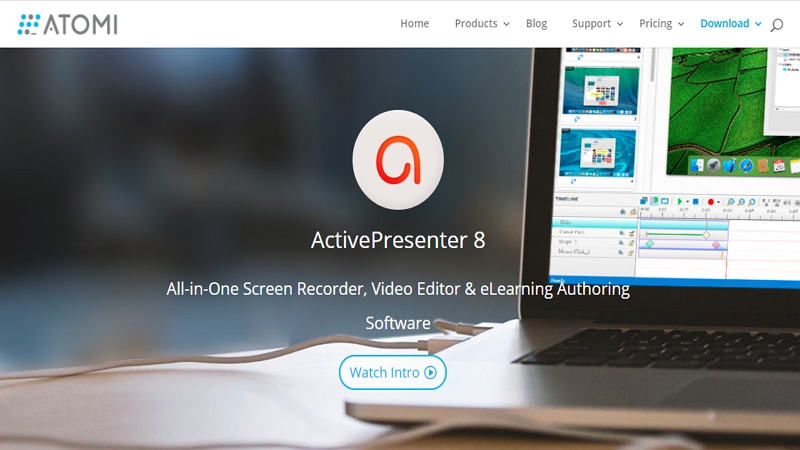 Active Presenter Overview
4. Ezvid
Ezvid is on the last of our list, but it is not bad. The screen recording feature is just like others. Basic features like video trimming is also available. The most interesting thing about Ezvid while recording screen is that you can use it to draw while recording and adding captions while others speaking. By the way, Ezvid exports video in WMV format. Which means it is OK to play on Windows, but not good on other platforms.
Pros:
Cons:
1. HD video capture.
1. Works only on Windows.
2. No watermark, no ads.
2. Delayed replay.
3. Insert photos and videos in your screencast.
3. Slows down your computer.
4.Exports video in WMV only.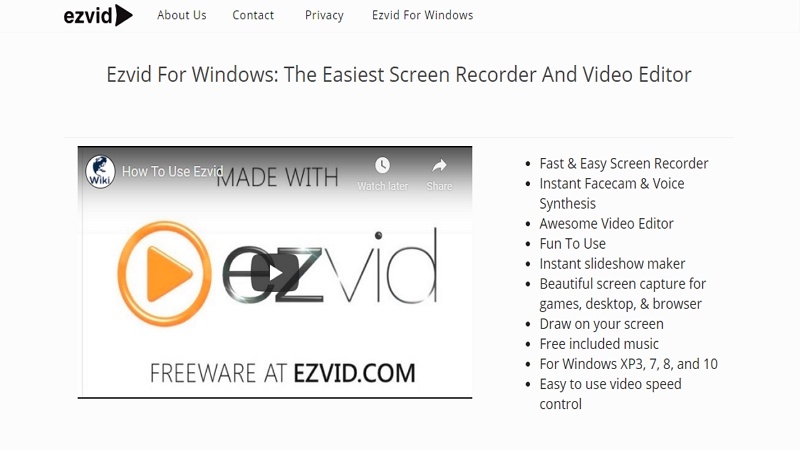 Ezvid Overview
The Bottom Line
That's the top screen recorder and video editor. If you find this list neutral and helpful, do remember to share it with others.