Briefs: VLC can record a screen, record a video and take a snapshot? That's true, this guide will walk you through VLC screen recording, video recording and VLC snapshot.
CONTENTS:
Part 1 - VLC Media Player VS VLC Screen Recorder
Everybody knows & loves VLC media player as a robust video player. It's powerful and supports video playing in nearly all formats. We always grab VLC media player to play downloaded video, though its interface is outdated & a bit boring.
You may not know that VLC media player has come with a screen recorder yet. Before writing VLC recording guides, we've tested & recorded screen with VLC screen recorder. Put it ahead, VLC screen recorder's using experiences are not as pleasant as its media player. Compared with the player, VLC screen player is less obvious & powerful.
Perhaps, VLC screen recorder is not VLC media player's major function. Or, VLC screen recording function lacks enough crews to maintain the open source recording function. Sometimes, it's buggy or stuck. But in most cases, it indeed helps you record a screen, video and take a screencast. Check the 10 best free screen recorders in 2021.
It's open-source and free, and designed in 20 century. As a powerful media player, what can we expect more from it? Now, let's check out VLC screen recorder!
Part 2 - How to Record Screen Using VLC Screen Recorder?
If you are new to VLC screen recorder, you may freak out for the first time using VLC screen recorder. At least, we do feel blackout in the first time trying: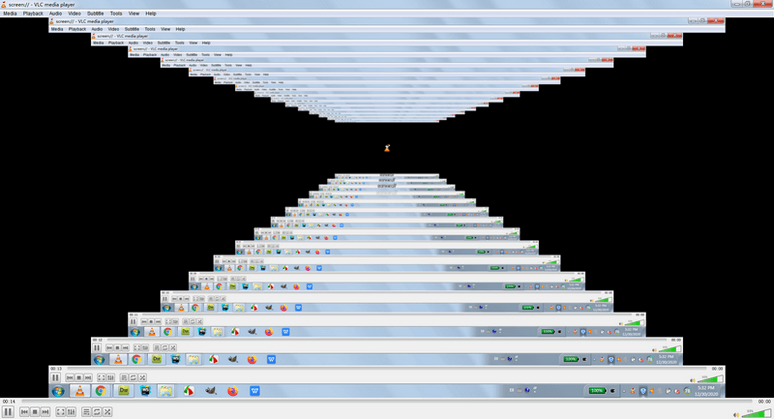 Image: Navigate wrongly when recording desktop with VLC.
Right Way Using VLC Screen Recorder to Capture Screen:
Step 1
Download and install VLC media player. Launch your VLC media player.
Step 2
Head to VLC screen recorder mode: Go [Media] > [Convert/Save...] > [Capture Device].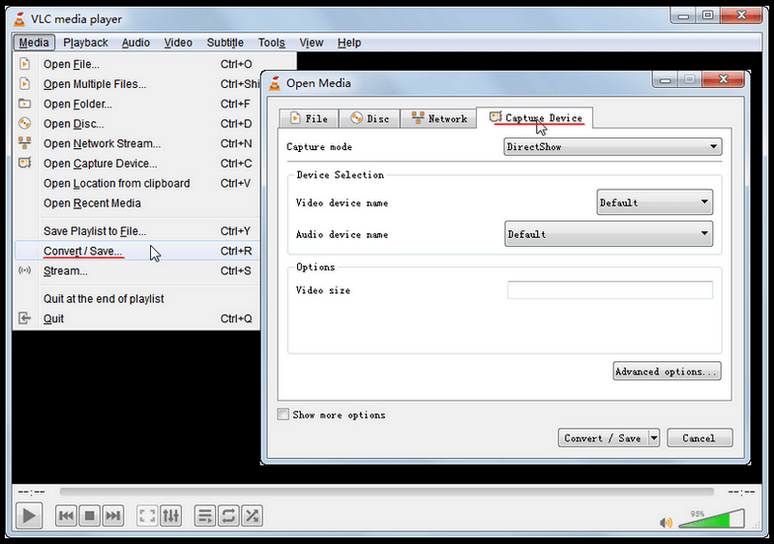 Image: Turn on VLC screen recorder.
Step 3
Change "Capture mode" to "Desktop" item. Set frame rate to "30 f/s". Choose dropdown arrow and pick [Convert/Save].
Step 4
Select a format of your screen recording video, choose a folder to output. Hit [Start] to begin desktop screen recording, finish recording with the stop icon button.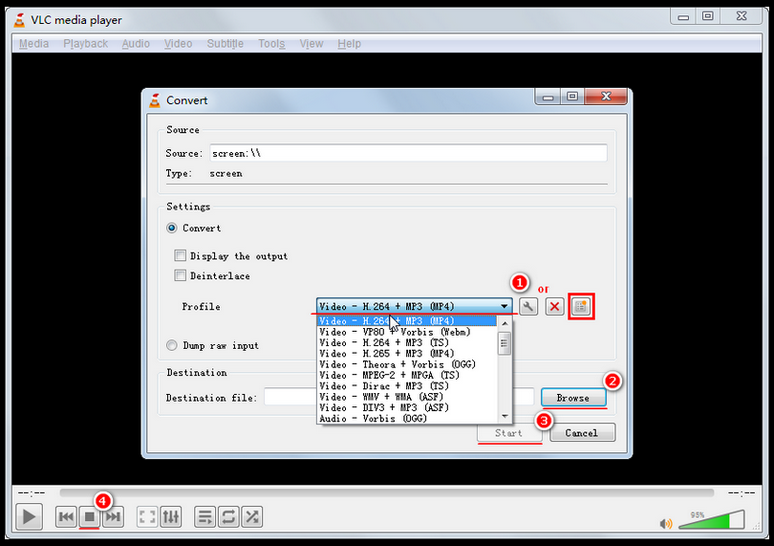 Image: Set VLC output format and folder.
Free Online Alternative to VLC Screen Recorder:
Any free alternative to VLC screen recorder, when VLC media player gets stuck?
RecordCast is a VLC screen recorder alternative that's free online. It's easy, fast and flexible to record screen as requested. Discover the best screen recorders for making tutorial videos.
Step 1
Click [Start Recording] and pick a screen recording mode. About this, RecordCast is very powerful that allows you to choose among "Screen + Webcam", "Screen Only" and "Webcam Only".
"Screen + Webcam" option is made for tutorial teacher, Vlogger, live streamer, etc. You don't need picture-in-picture technology anymore to merge 2 video shots. It's at one go.
"Screen Only" is for those who just need to capture computer activities, such as, activities in an application, activities on fullscreen(desktop), or activities on a Windows tab.
"Webcam Only" choice is that you only want footage from webcam.
Step 2
Choose your audio recording during your screen capture.
Step 3
Press [Start Recording] to choose which screen to capture activities.
Tips:
Part 3 - How to Record Video in VLC Screen Recorder?
Step 1
Open VLC media player, go [Media] > [Open Capture Device].
Step 2
Tab "Network" and paste a URL of your video. Click dropdown arrow and find [Convert]. But if you need to record a DVD or blue-ray video, go "Disc" tab.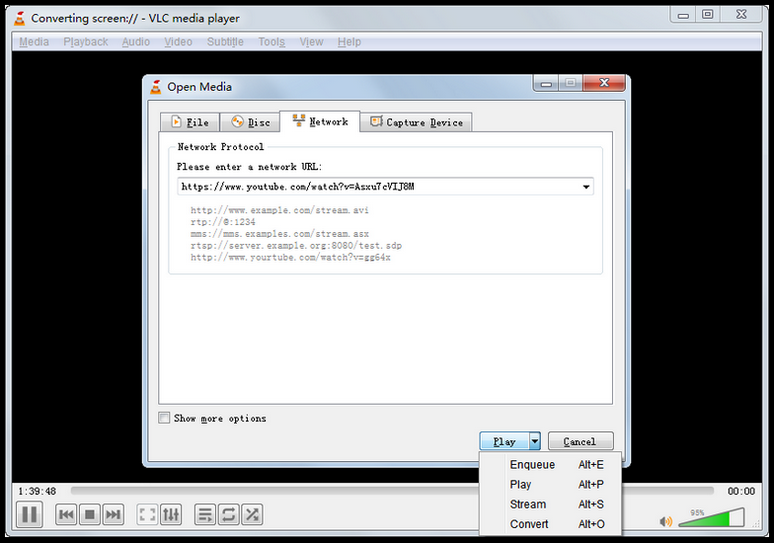 Image: Load online video.
Step 3
Choose a video format in profile, set your output destination. A hit of [Start] will download the video from your input URL.
Part 4 - VLC Screenshot: How to Take a Snapshot in VLC Screen Recorder?
VLC screen recorder allows you to take a screenshot from video play. You are only 3 steps away to get your wanted snapshot:
Step 1
Set your snapshot image directory: [Tools] > [Preferences]; In the new windows of "Simple Preferences", go "Video" tab; Find "Directory" in "Video snapshots" section and hit [Browse...] to choose your folder for snapshots.
Step 2
Drag and drop a video file (or a video URL) onto VLC interface. Stop video play at the time point where you want to take a screenshot.
Step 3
Go [Video] > [Take Snapshot], VLC screenshot images will be saved into your folder automatically.