Interviewing a guest remotely online is a popular strategy to create a buzz for your podcast episodes and see the listeners' numbers spike.
However, one of the most troubling issues many podcasters complain about is that you can't maintain high-quality audio for your guest.
So, in this post, we will walk you through some of the most flexible podcast equipment, podcast call recording software, and podcast recording solutions to ensure high-quality audio recording as you record a podcast with a remote guest online.
Contents:
Best Strategies to Record a Podcast with a Guest Online Plus High-Quality Audio
What PodCast Equipment & Video Call Software Host and Guest Need
The great content and high-quality audio are two of the most vital elements for making a winning podcast. To make sure clear, stable audio can be recorded from you and the interviewed guest you couldn't do without the following podcast equipment.
PodCast Equipment for Podcast Host
External Microphone Connected to Your Desktop PC/Laptop
Forget about the built-in mic in your laptop. It does nothing but ruins your podcast audio with terrible room acoustics and echoey sounds. For a podcaster, you need a USB external microphone to record the crisp and clear audio. Check the 5 best Mac screen recorders with audio.
Here are 3 mics we highly recommend:
1. Rode Podmic, a Dynamic Podcasting Microphone ($99.00)
With a built-in pop filter to minimize the plosive and internal shock mounting to reduce the vibration, Rode Podmic is one of the most popular and affordable mics to get the best audio for podcasting during live streaming and doing voiceover for presentation.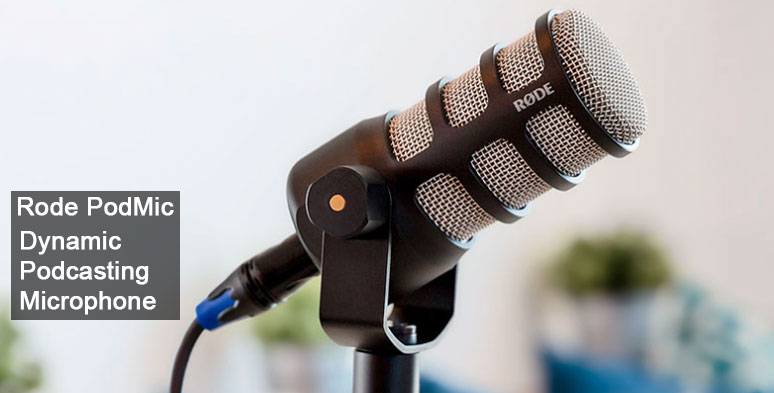 Rode Podmic for podcasting
If your mic doesn't have a built-in pop filter, you also need to get one to avoid the plosive sound and keep saliva off the microphone if your mouth gets too close to the mic as you speak.
2. HyperX QuadCast ($139.99)
Built for podcasters, gamers, and content creators, HyperX QuadCast is another great option to capture your voice with perfect quality. It features an anti-vibration shock mount, tap-to-mute sensor with cool red LED light, and monitor mic input through the headphone jack and built-in pop-up filter, gain control, etc. It deserves a place for your podcasting.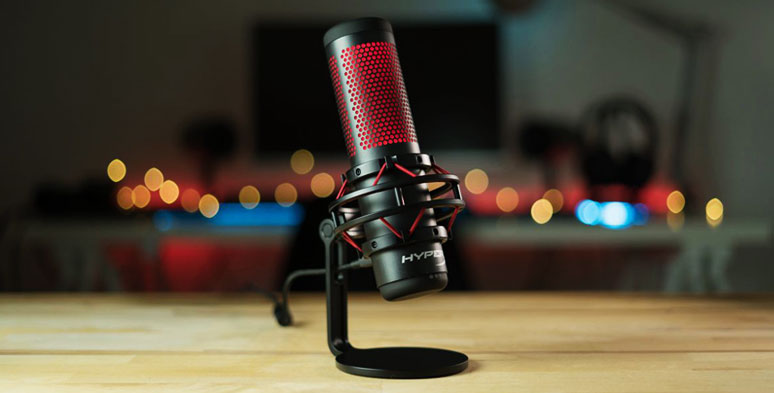 Use versatile HyperX QuadCast mic for podcasting
3. Elgato Wave:3 USB Condenser Microphone and Digital Mixer ($135.68)
As a go-to microphone for many podcasters, Elgato Wave:3 USB microphone captures audio as crispy as a photo chip with true-to-life sounds on your voice and amazing precision. It features smooth sound diffusion, U-mount, and staggering Up to 24-bit / 96kHz analog to digital conversion, etc. The value of the mic is well worth the price.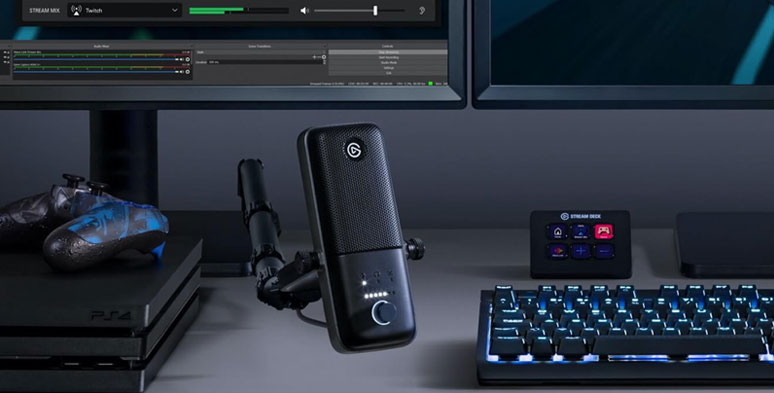 High-performing Elgato Wave:3 USB mic for podcasting
Do get an adjustable arm stand to hold your USB microphone on the desk. It gives you the flexibility to freely control the distance between your mouth and the mic and set your arms free. A recommendation is InnoGear Microphone Stand, which sets you back only $19.99.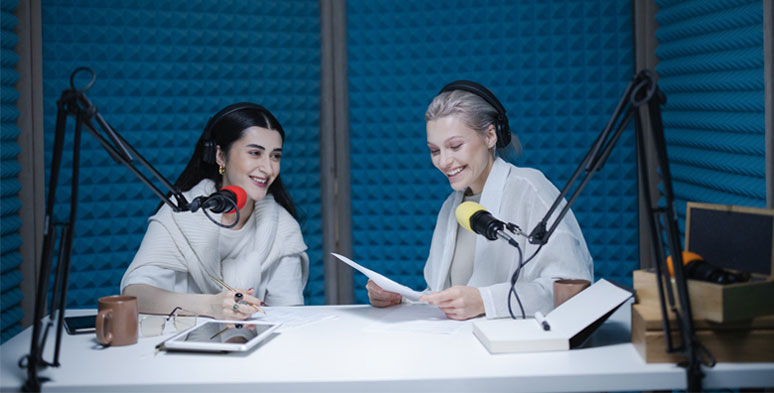 Use an armstand to hold a mic for podcasting
Having a basic headphone is essential in that it prevents the guest's voice from being capturing by your external mic as you record a podcast.
An affordable and lightweight headphone option is Sony MDR7506 ($99.00). It wears comfortably with bright and crisp sound and effectively isolates the background noise. Besides, there is barely any sound leakage.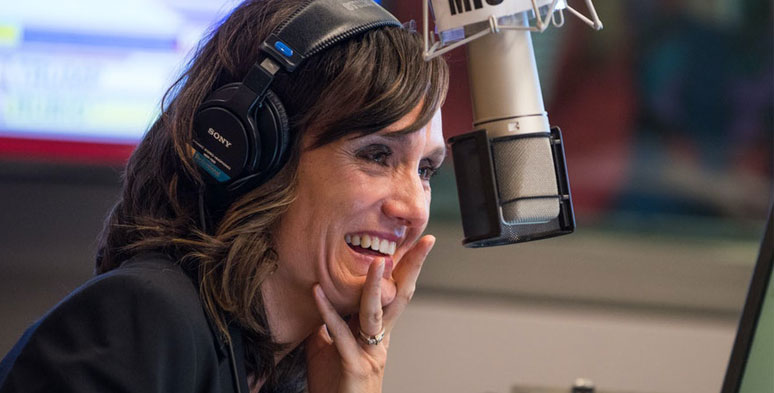 Use Sony MDR7506 to hear guest's voice during the podcast
PodCast Equipment for the Guest
Well, unlike podcasters who have professional equipment for podcasting, most of the podcast guests don't have an external mic or pop filter.
So, to make sure their voice can be clearly recorded with minimal background noise, the guest needs to use:
* Headphone of their iPhone or Android Smartphone to Record Their Voice during the Interview
* An Audio Recorder on the Phone
If the guest uses iPhone, then using Voice Memos, a built-in voice recorder on iPhone, is the perfect choice to record the audio. It automatically saves audio files as MP3 and trimmer to edit the audio with one-click to other social media apps for an easy sharing.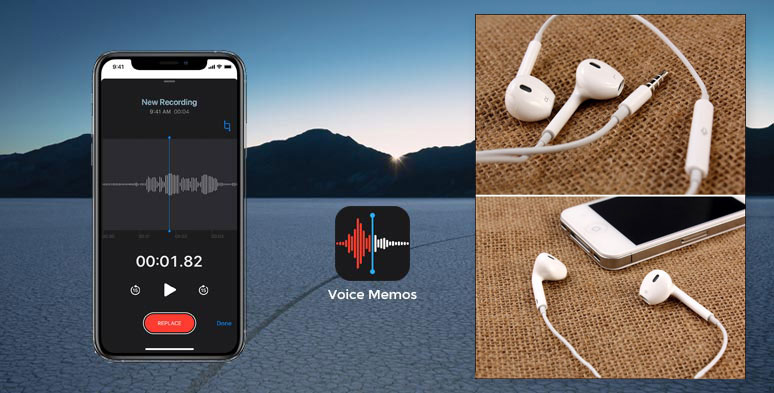 Combine iPhone with Voice Memos to record guest's audio
If the guest has an Andriod phone, then he or she can download ASR Voice Recorder, a popular and versatile audio recorder to record the voice. It has multiple audio formats: MP3, FLAC, WAV, OGG, and M4A, and its audio files can be easily shared to Google Drive, Dropbox, super easy for mixing the audio with the that's of the host during post-processing. Check how to record screen with audio.
Podcast Call Recording Software You Need
Since the interview is often conducted through a video call, we handpick 4 popular Podcast video call software for you. Of course, if you decide to post the video podcast to your YouTube channel, an extra screen is also needed. We will cover that later in detail. Also read the best way to record an interview with high audio and video quality.
So, let's start with the first podcast video call software:
1. Zencaster (Windows, Mac; available to both free and premium users)
Promising "high fidelity podcasting", Zencaster records guests' voices in perfect quality directly from the web browser. After the podcast ends, the audio files in MP3 format will be saved to the guest's local computer.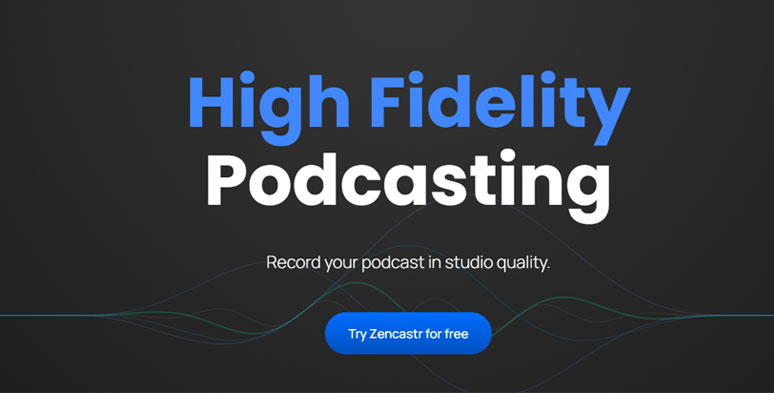 Zencastr to record a podcast
Meanwhile, a separate audio file will be automatically uploaded to the dropbox account where the host can have access to each guest's individual audio track. And no software download is needed, while the audio editing feature is only available to paid users.
2. Squadcast.fm (Windows, Mac, free)
Aiming to connects podcast hots, cohosts, and guests to record studio-quality audio from anywhere, Squadcast is another browser-based call option similar to Zencaster.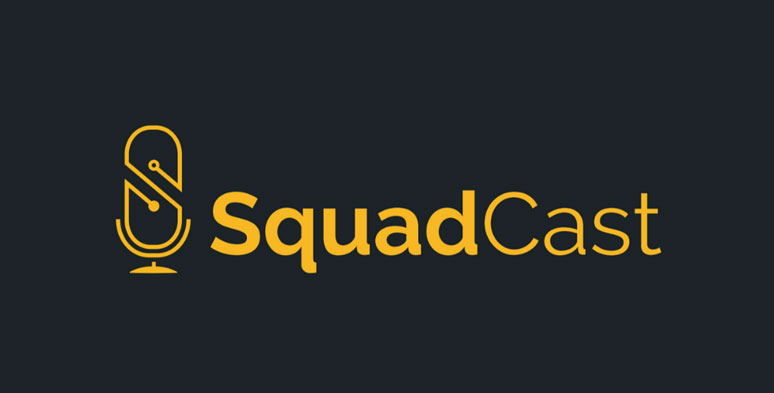 SquadCast, a web-based podcast recorder
The interesting difference is that Squadcast allows you to see the video of the guest. However, it has no video recording feature and after the podcast is over, the audio files will be saved as WAV to the Clouds.
If you decide to post the video podcast to YouTube, an alternative is to combine Squadcast with RecordCast, a free online screen recorder with a built-in video editor.

Combine Squadcst with RecordCast screen recorder
All you need to do is:
Step 1
Step 1: Make a Video Call with the Guest

Select video and audio recording options in RecordCast
Step 3
Select Squadcast Video Call Chrome Tab and Click " Share Audio " and "Share" Button to Start Recording
Step 4
Use RecordCast's Video Editor to Edit Video Podcast's Recording and Export in MP4 (1080P)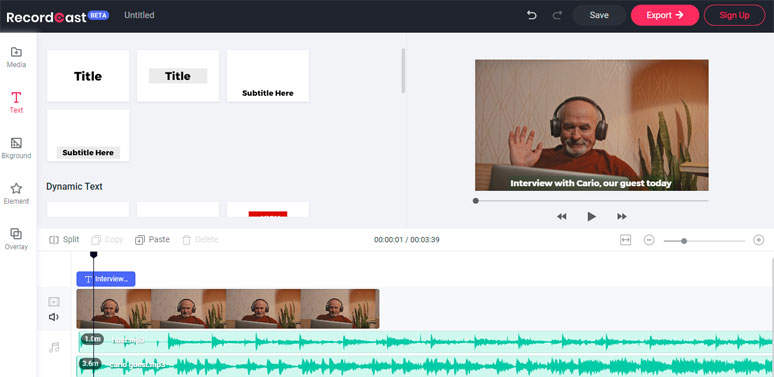 Edit podcast recording in RecordCast's video editor
Copyright Infringement & Privacy Reminder
Well, though technically you can record a podcast video call with ease by RecordCast, you have to bear in mind that any attempt to record a copyrighted podcast video call without permission from the host and parties involved is illegal. Meanwhile, if you distribute or make profits by selling these unauthorized copies, it also constitutes copyright infringement and violation of privacy and will put you in trouble.
So before you use RecordCast, it's advisable to refer to the local law or get permission from the host of the podcast interview and parties concerned in the first place. RecordCast is not liable for any intentional or unintentional copyright violation.
3. Ecamm Call Recorder (exclusively for Mac users using Skype for video call)
If the host and guest are both Mac users, then using Ecamm Call Recorder to record audio on Skype naturally becomes your first choice. Ecamm Call recorder can automatically record and save both the call audio and video on your Mac.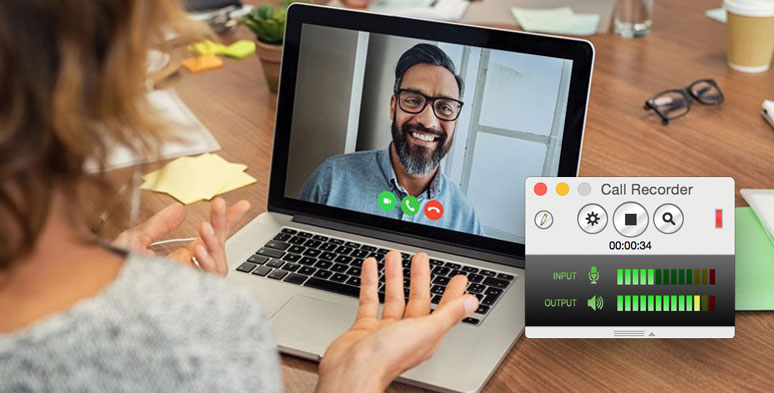 Use Ecamm Call Recorder to record a podcast on Skype
What you need is a stable internet connection to ensure an uninterrupted audio recording.
4. Zoom
Widely known as a Cloud-based platform for the webinar, video conferencing, and chat, Zoom is also the favorite of global podcasters for video podcasting.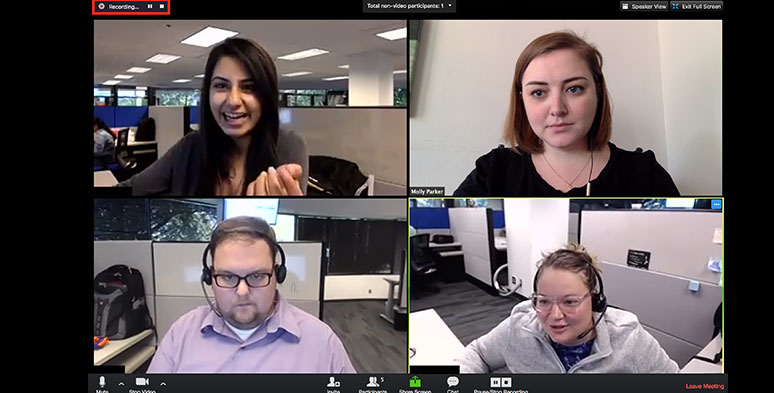 Record a podcast using Zoom
As the host of the Zoom meeting, you can easily record the video of your podcast interview with the remote guests, and a separate MP3 audio file will also be automatically saved to your local drive. Keep in mind that for free users, your podcast video call is limited to 24mins.
While for premium users, you can enjoy unlimited audio recording and even record to Clouds and keep it save there for up to 28 days.
Best Way to Record a Podcast with A Guest Online Plus High-Quality Audio
Having discussed the basic podcast equipment and podcast call recording software you need, now let's focus on the 2 practical ways to record a podcast with a guest online while still maintaining the high-quality audio. Find out the 8 best free screen recorders with no watermark.
Option 1: Deliver a Quality Microphone to the Guest
Though this strategy sounds time-consuming and not budget-friendly, it is one of the best practices for what journalists and professional podcasters do when they have to the best audio quality for an audio or video podcast.
After you deliver a quality microphone to the guest afar, you also need to give a basic guideline to the guest, such as:
How to use the external mic correctly
Make sure the guest has a quiet room when the interview begins
There is no need to stop recording if they make verbal mistakes because all the audio file can be edited later
How to use video/call recorder software in an easy way
It's better to do a test run before the formal interview
Option 2: Record Audio Separately and Combine it Later
This is probably the best way to ensure the best quality for a podcast interview with a remote guest online.
As mentioned above, firstly, ask the guest to use their iPhone's headphone, which has a tiny built-in mic, to plug into the laptop's USB port. Then, use an extra audio recorder to record the audio on the laptop during the interview. here are the detailed steps:
Step 1
Make a Video Call Using Zoom or Skype
Step 2
Open the Audacity or Voice Memo App and the Host and the Guest both Record the Audio Separately
Step 3
The Guest Uploads Audio Files to the Clouds
Step 4
The Host Downloads the Audio Files and Mix with His Audio for a Podcast in Audacity
That's it. As to how to edit your podcast in Audacity, we find a YouTube video for your reference.
How to Edit a Podcast in Audacity
One more word, technically if you want to record a podcast with the best audio quality, then keep your audio file in MP3, 16 bit, 44.1KHZ, which equals the CD audio quality.
Final Thoughts
Hopefully, after reading our recommended podcast equipment and podcast call recording software and flexible strategies to record a podcast with a guest online, now you have a sober mind to capture the podcast audio with high quality.
If you like our post, don't forget to share it with your friends. If you have new suggestions or questions, do reach us on our Facebook.