Having an easy-to-use and versatile webcam recorder is a must for every content creator. Whether you use it to record PowerPoint presentations with a webcam or make YouTube video tutorials, live stream gameplay, or record a video interview, etc.
A webcam recorder, together with your facecam and screen recorder, opens up new opportunities to make your communication more intimate and come alive.
So, we have tested a dozen of webcam recorders and found 8 worth recommending. Let's find out together in the following webcam recorder review.
Content:
1. RecordCast
If you hate downloading webcam recording software and only need a simple webcam recorder that captures the screen and webcam, then RecordCast, an all-in-one online screen recorder with a built-in video editor, should be your go-to choice for webcam recording and video editing.

Use RecordCast to record screen and webcam for different uses
Best Features of RecordCast as Online Webcam Recorder:
Useful recording modes: record full screen, app window, screen+webcam (picture in picture effect)
Record PC's system audio and mic audio
In-browser screen and webcam recording: no software to install
100% free with an intuitive interface
Seamless transition from recording and video editing
Built-in video editor: add captions, funky elements, trim recordings, import images, audio, video footage, etc.
record, edit and download locally, private and secure
Export recording in MP4 (1080P) video format without watermark
Limitations:
Max 30 mins recording each time
How to Record Webcam with RecordCast:
Step 2
Customize the Video and audio Mode like "Screen+Webcam" and "System +Mic" Audio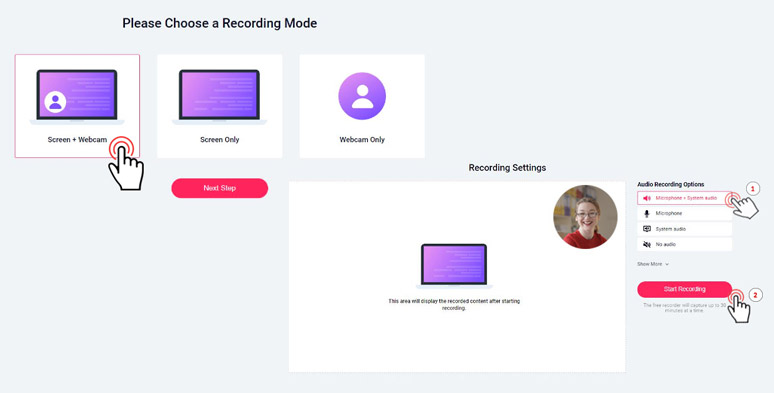 Select the video and audio recording mode with a webcam
Step 3
Select Chrome Tab or App Window and Click on "Share Audio" and "Share" Button to Start Recording
Step 4
Edit Video Recording in RecordCast's Video Editor and Export Edited Video in MP4 (1080P)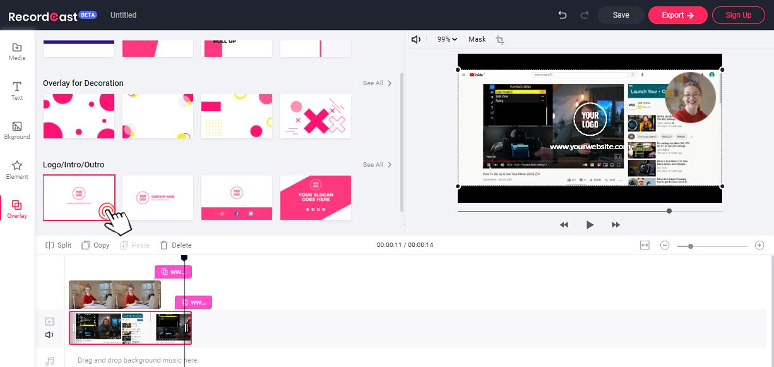 Edit video recordings in RecordCast's video editor
As a celebrated online video editor, FlexClip shares many similarities with RecordCast. Both use an in-browser webcam recorder for webcam recording and have a built-in video editor to edit video recordings.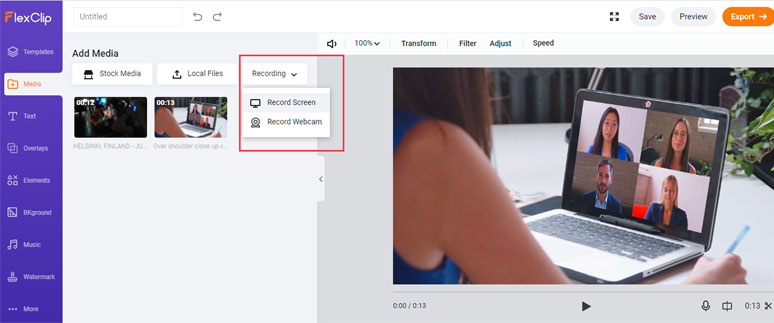 Use FlexClip video editor's built-in webcam recorder to record webcam
However, what distinguishes FlexClip from RecordCast is that FlexClip has thousands of ready-made video templates and millions of royalty-free music and stock videos, and dozens of video editing tools like video filters, transitions, GIF makers, etc. to help you make an eye-catching video with ease.
Besides, unlike RecordCast, FlexClip can't record full screen with a webcam on it. Or perhaps, you can combine both advantages of the two to yield the best result.
Best Features of RecordCast as Online Webcam Recorder:
Record full screen, webcam
Record system and mic audio
Dozens of flexible video editing tools: video trimmer, filter, video merger, transitions, video converter, etc.
Thousands of pre-made video templates for various uses
Millions of royalty-free music and HD stock videos
Direct share to Dropbox and YouTube
Limitations:
Can't record screen with a webcam on
3. OBS Studio
With a vast community of global users, OBS Studio or Open Broadcaster Software is one of the most popular open-source webcam recorders you can get online. It's completely free and offers you dozens of screen and webcam recording features that are only found on paid screen and webcam recorders.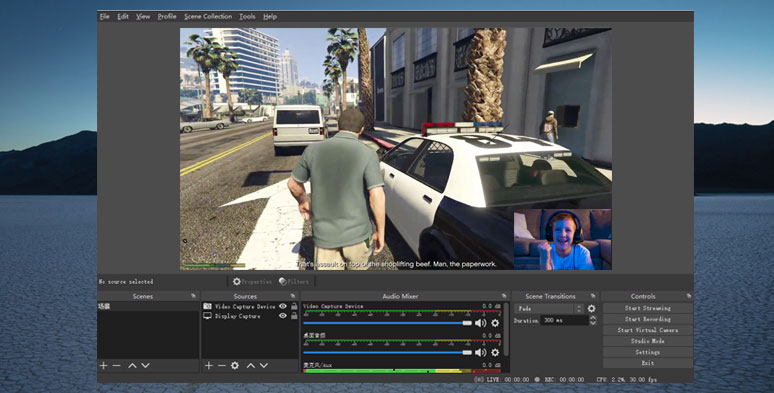 Use OBS Studio to record both screen and webcam
For podcasters, YouTubers, and Vloggers, and gamers, you will quickly fall in love with OBS's versatilities to record high-quality videos/audio and unlimited scenes to toggle with, and other dazzling effects. For Mac users, check how to use QuickTime for screen recording with a webcam.
Best Features of OBS as Open Source Webcam Recorder:
Record full screen, chrome tab, screen+webcam
Record system audio and mic audio plus powerful audio mixer to play with
Unlimited scenes for live streaming, esp. gameplay
Engaging scene transitions
Flexible keyboard shortcuts to give you full control during recording
Support plug-in, filters, and green screen
Multiple video output formats, encoders, video bitrate, video resolutions, etc.
Studio mode and advanced features
Limitations:
Complex interface, not so user-friendly to first-time users or video making beginners
Use higher CPU and RAM while recording
4. Logitech Capture
Buy one and get one free. If you happen to use a Logitech webcam like C920 or other webcam products, you just hit the jackpot since Logitech creates its high-quality and powerful webcam recording software that will make other webcam users jealous.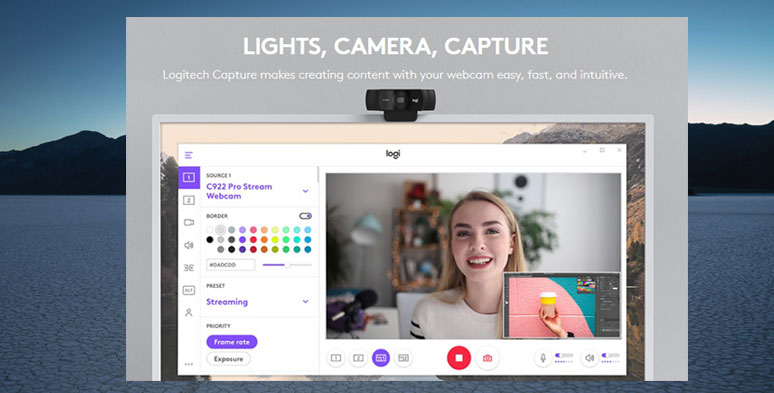 Use powerful Logitech Capture to record webcam
Best Features of Logitech Capture Webcam Recorder:
Record from two webcams, full screen, the app window
Easily toggle between up to 6 scenes with a picture in picture effects
Directly Record 9:16 format for mobile phones
Use video editor to easily add customizable text, filters, transitions to webcam video recordings
Advance webcam settings, such as white balance, webcam brightness, contrast, saturation, sharpness, anti-flicker, etc.
Limitations:
Limited to Logitech webcam users using Windows system
5. VokoscreenNG
VokoscreenNG is a lightweight and open-source screen and webcam recorder. With a user-friendly interface, you can easily follow the controls to set up screen, audio, video format, save path, and even recording hours. Simple and effective for novices.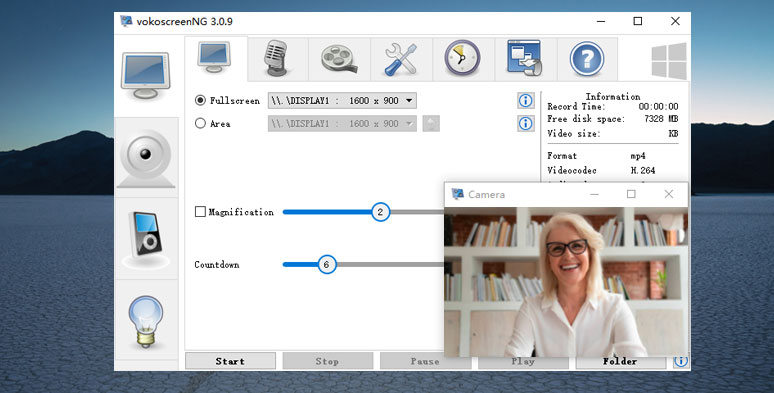 Use VokoScreenNG to record webcam and screen for tutorial videos
Best Features of VokoscreenNG as a Webcam Video Recorder:
Record full screen, selected area, and full screen +webcam
Adjust webcam position: vertical, horizontal, color, and resolution
Customize recording framerates (10FPS to 60FPS) and video quality
Multiple video format: MP4, WebM, Avi, MKV, MOV
Limitations:
It only works on Linux and Windows
6. Webcamera.io
If you go for the simplest webcam recording and screenshots, Webcamer.io is an ideal online webcam recorder to hit your sweet spot. Nothing fancy. Just open Webcamera's online webcam recorder, then you can already see your lovely face on the screen.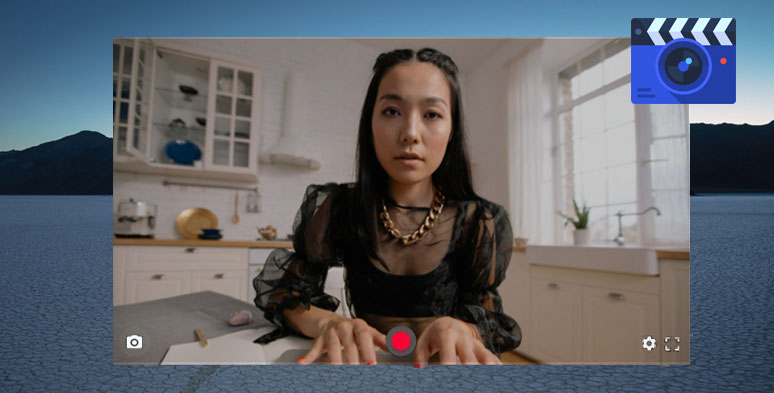 Easily use Webcamera.io to record webcam
Then select the highest video quality 720P and select your external mic and click on the red recording button to start recording. To get screenshots, just tap the camera icon at the left corner of the webcam screen. That's it.
After the recording is done, you can upload video recording to its website and use its plenty of useful tools, like trimmer, speed changer, and voice recorder, etc. to further enhance the recorded video.
Best Features of Webcamer.io Webcam Recorder:
Record webcam with mic audio
Unlimted time for recording
Easily save to Google Drive or Dropbox
Limitations:
Highest resolution is only 720P for webcam recording
No advanced recording features
7. Veed.io
Veed.io is one of the latest start-ups of online video editors. Its in-browser webcam recorder allows you to record screens along with a webcam with simple clicks. Just like the webcam video recorders of RecordCast, no software download is needed. After you finish recording, you can use its minimal video editor to trim the recorded video.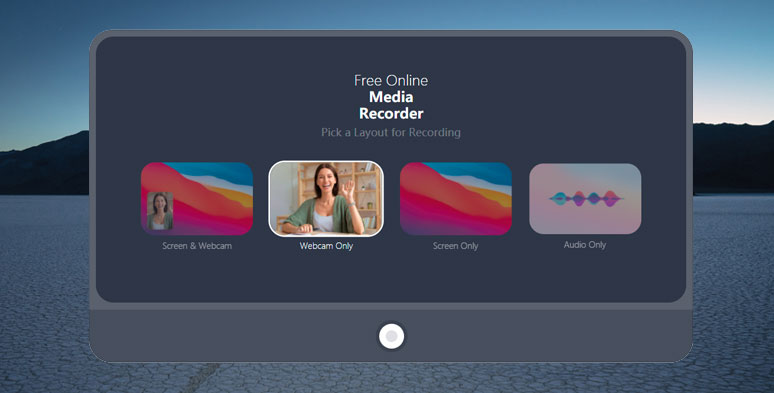 Use Veed.io to record either webcam or screen, or both
Best Features of Veed.io Webcam Recorder:
Record screen +webcam, webcam only, screen only
Recording countdown timer
Basic video editor to add text, trim video, add filters, etc.
Limitations:
For free users, you can only download recorded video at 720P with a watermark
Can't record system audio
8. BandiCam
BandiCam is a lightweight yet feature-packed screen and webcam recorder. It a favorite of gamers to record gameplay like Minecraft with both screen and webcam on with no lagging. But it also works flawlessly for webcam recording.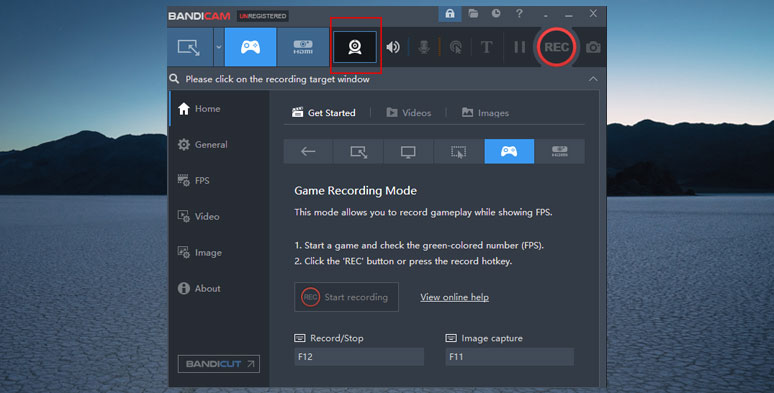 Use feature-packed BandiCam to record webcam
Surprisingly, such a small screen recorder with a webcam can capture stunning high-quality video up to 3840x2160 pixels, which is 4K. For making YouTube video tutorials, BandiCam also allows you to annotate the real-time recording with drawing tools, etc. Find it irresistible?
Best Features of BandiCam Webcam Recorder:
Record full screen, rectangle area, screen +webcam (picture-in-picture effect)
Record both system and mic audio on pc
Game recording mode to display FPS on the screen
Capable of recording video game consoles like Xbox and Playstation, even connected to the latest smartphone
Take quick screenshots while recording
Add webcam stream to the main video
Limitations:
Only available to paid users
The Bottom Line
So, here are the 8 best webcam recorders that we believe are worth a rightful place on your pc. Now, the question is which one is the perfect match for you?
Well, if you wanna quickly record webcam and screen, then choosing a flexible all-in-one screen recorder like RecordCast can be the right solution and it's 100%. For more needs, just go with FlexClip, OBS, etc. For gameplay recording, BandiCam is second-to-none in this league.