Times have changed. Nowadays, playing pc games is more than a personal favorite pastime. With versatile game recording software, you can easily record the highlights of your gameplay and post them online to win more likes and followers for bigger joy.
Whether you wanna show off how you speedrun Minecraft or share your strategies to beat the final boss of Final Fantasy VIII or offer a witty gameplay commentary, all you need is a flexible gaming recording software.
Here we have tested and handpicked the 12 best software to record gameplay. Some are perfect candidates for low spec pc games while others are more for graphically demanding pc games. Without further ado, let's find out how each game capture software is capable of.
Contents:
Best Software to Record Gameplay for Low Spec PC Games
Best Software to Record Gameplay for Graphically-demanding PC Games
Before we introduce you to the promising game recording software, here are few proven tips to help you record gameplay on pc with the best quality:
Make sure the CPU, GPU, and RAM of your pc live up to the minimum or recommended specs for playing a pc game. These are what lead to annoying lagging as you record gameplay.
Always customize the gameplay recording settings before you start recording, esp. match the resolution of the game recording with that of the game display on your screen.
If you record steaming gameplay, using a wire connection to your pc is often more reliable than a wifi connection.
Best Software to Record Gameplay for Low Spec PC Games
If what you try to record is low spec pc games like Minecraft, The Sims 4, or Grand Theft Auto or Limbo, etc. then the following 6 light-weight and user-friendly game recording software have very reasons to be your priority that won't melt your CPU.
1. RecordCast
RecordCast is an easy-to-use web-based screen recorder and video editor. So long as you use Google Chrome, you can easily access its online screen recorder with no software download needed. Check how to record Minecraft on Pc with no lag.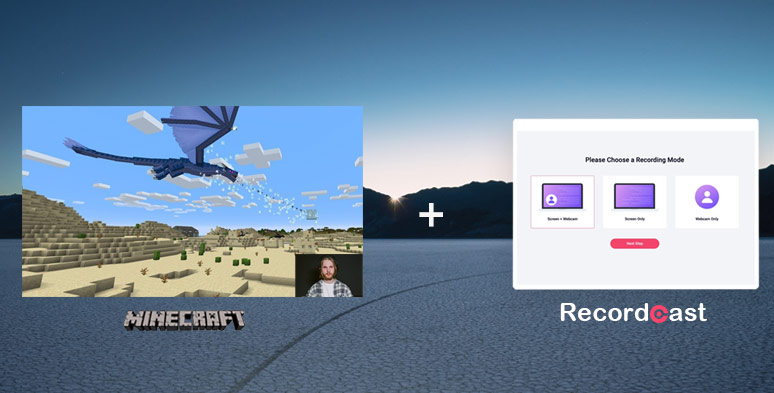 Record Minecraft with RecordCast
Besides, it's 100% free to use without a watermark and its intuitive interface is as easy as ABC for everyone. You have multiple recording modes to select from and freely use its built-in video editor to add dynamic texts and trim the recording and sync imported audio, video, etc. Get top 8 free screen recorders with no watermark.
Best Game Recording Features:
Multiple record modes: record screen; screen+webcam; webcam only with both system and mic audio
No software download needed
Web-based screen recording technique with a flexible in-browser video editor
Export recordings in MP4 (1080P)
100% free without a watermark
Local recording and download locally, private and safe
Limitations:
Max 30 min recording at each time
Can't annotate while recording
2. Xbox Game Bar
As a pre-installed game recorder, Xbox is one of the most overlooked free game recording software for Windows users. You can pin gameplay recording on a specific game app or get screenshots with customizable keyboard shortcuts. Overall, it's a simple and backup solution to record pc games.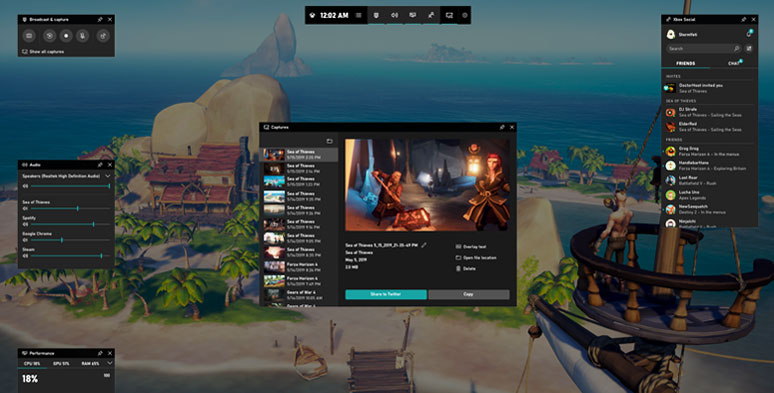 Use pre-installed Xbox game bar on Windows 10 to record gameplay
Best Game Recording Features:
Record full screen of gameplay with screenshot capability
The customizable keyboard shortcut for recording and file saving
Select fps and video quality and audio bitrate for recording
See CPU performance during recording
Play your music while recording the game
Unlimited time for recording
Limitations:
Only available to Window 10 users
Can't record gameplay with webcam
Limited recording and editing features
If you are interested in making animations yourself, please check the top 6 free animation makers online.
3. VokoScreenNG
As a flexible game capture software on Linux and Windows, VokoScreenNG allows you to record the full screen, selected area, or both screen with your facecam on. You can magnify the screen recording and select fps, output format, video/audio codec, etc. Simple but very effective to record gameplay. Find out the top 8 Linux screen recorders.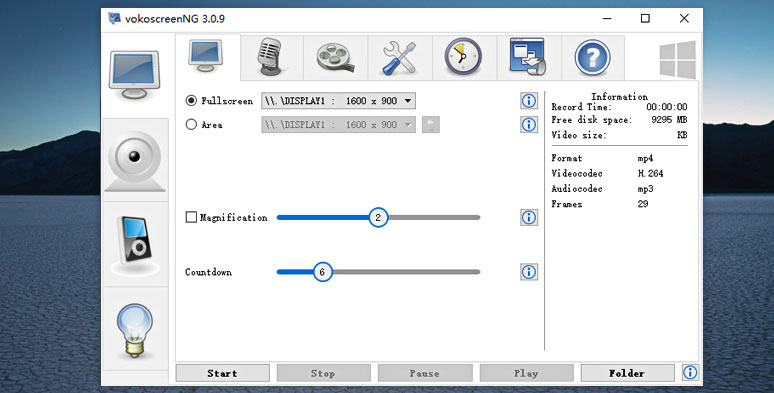 Use VokoScreenNG to record light-weight pc games
Best Game Recording Features:
Mulitple recording mode: record full screen; selected area; screen+ webcam
Magnifier for screen recording
Recording countdown reminder
Timer for recording hours
Multiple output video/audio formats: MKV; WebM; AVI; MP4; MOV; MP3; FLAC; OPUS; Vorbis
Customize fps and video quality
Limitations:
Not available to MAC users
4. OBS Studio
Here comes the Open Broadcaster Software, an all-star game recording software in the league. It is so versatile and popular for screen recording, gameplay recording, and live streaming that OBS Studio becomes a go-to choice for any screen recording for gamers, YouTubers, and podcasters, Vloggers, etc. Check how to make an instructional video with screen recording for YouTube.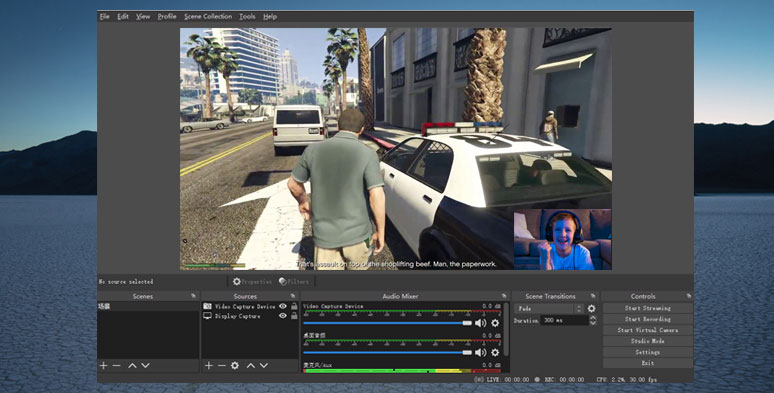 Use OBS to capture Grand Theft Auto with webcam on
Best Game Recording Features:
Unlimited scenes for recording
Record screen, selected area, and screen+ webcam
Support virtual background for your webcam
Powerful audio mixer and studio mode
Offer seamless scene transitions
Fully customizable keyboard shortcuts for literally all configuration of recording, even its layout
Multiple streaming and video/audio recording and output format
Support plug-ins with the global user community
100% free to use for all users
Limitations:
Easily get overwhelmed by its notoriously complex interface for first-time users
5. Screencast-O-Matic
With an intuitive interface, Screencast-O-Matic is a screen capture tool that allows you to easily create gameplay video tutorials using the screencast it created. All you need to is download its desktop launcher and customize the recording mode, recording area and select the audio for recording. Then click on the recording button to start capturing the gameplay.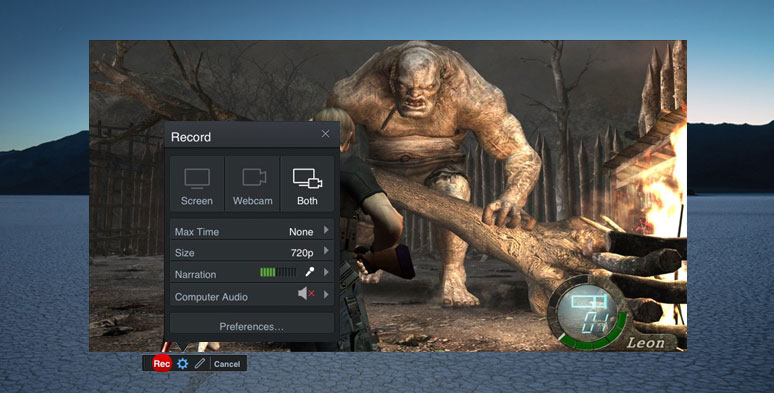 Use Screencast-O-Matic as a game recording software to record gameplay
This game recording software has 3 versions: free, deluxe, and premier. You can get a taste of its basic screen recording features for free users before deciding if you want to upgrade the subscription or not.
Best Game Recording Features:
Record full screen; select area; screen +webcam
Record audio narration and system audio
Quick share to Facebook, Twitter, and G classroom,YouTube and Google Drive
Automated speech-to-text captioning
Limitations:
Max 15 mins recording for free users
Most of the key features are only available to paid users
6. Apowersoft Screen Recorder
As a feature-packed game recording software, Apowersoft Screen Recorder is arguably one of the best software to record gameplay. With a sleek interface, you can easily select the "Record Game" tab on its controls and recoding mode, let's say "screen + webcam" and choose from 24fps to 60fps and system + audio sound to kick off the recording.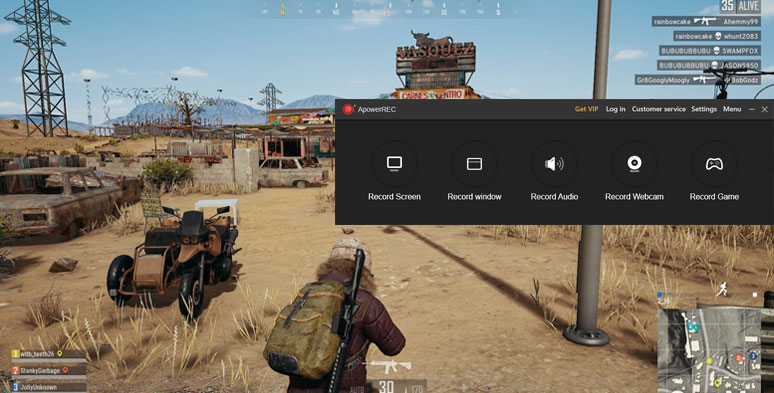 Apowersoft game recording software is adept at recording gameplay.
Best Game Recording Features:
Multiple recording modes: Record full screen, selected area, chrome tab, and screen + webcam
Flexible built-in video editor to add text effects, overlays, local audio, images, etc.
Record both system and mic audio
Up to 10 video output formats MP4, WMV, AVI, MOV, FLV, GIF, etc
Up to 6 audio output formats: MP3, AAC, WMA, WAV, etc.
Customize fps, resolution, bitrate, codec
Show mouse cursor; record mouse clicks
Customize keyboard shortcuts
Take screenshot; annotate while recording
Limitations:
Most of the key features are only available to premium users.
Best Software to Record Gameplay for Graphically-demanding PC Games
Well, if you are more into blockbuster-like or graphically demanding pc games like Final Fantasy XV, Shadow of the Tomb Raider, Metro Exodus, etc. then the following powerful gaming recording software shall help you capture the most extravagant gameplay scenes.
1. Bandicam Screen Recorder
Bandicam Screen Recorder is a lightweight and popular game recorder that yields detailed and high-quality gameplay video recordings. If you happen to use a high-end NVIDIA graphic card, you can even enhance the quality of recording by selecting the GPU of the NVIDIA graphic card.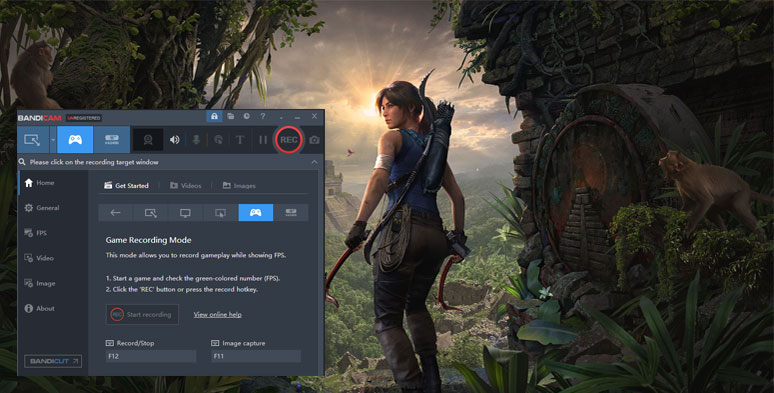 Record the Shadow of Tomb Raider by Bandicam game recording software
While using the game recording mode, the FPS number can be displayed in the corner of the screen. You can record gameplay at a resolution of up to 3840 x 2160 pixels, which is 4K video resolution. As Bandicam records gameplay, it takes up less CPU, GPU, and Ram, making sure you can record at a smooth and stable speed with rare lagging.
Best Game Recording Features:
Versatile recording mode: record selected area, full screen, screen+webcam
Record high-resolution gameplay up to 4K quality
Record video while compressing it without losing video quality
Record voiceover and system audio
Real-time drawing while recording
Add logo to the recorded video and mouse effects
Limitations:
Most of the key features only available to paid users
Max 10 minutes recording for free users
2. Camtasia
As a prestigious workhorse for screen recording and video editing, Camtasia is a perfect candidate to capture your gameplay for commentary and video tutorials. Camtasia makes polished gameplay video recording and offers superb easy editing and sharing experience like no other. It's just an all-rounder for video making for all purposes. Find out the best Camtasia free alternatives.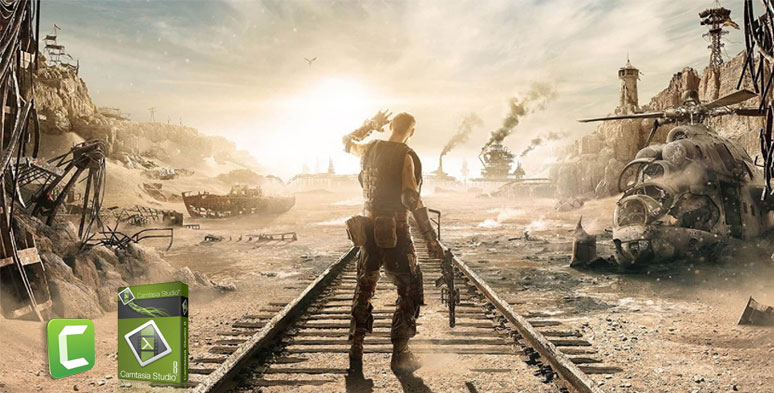 Use all-in-one Camtasia studio to record gameplay
Best Game Recording Features:
Record full screen, selected area, and screen +webcam with both system audio and microphone audio and 4K resolution
Recording countdown timer
Separate mic audio and system audio on the timeline for easy editing
Add annotations, transitions, and animation to the recording in the video editor
Easily trim or split the audio and video
Customized intros and outros, etc.
Quick share to a local drive, Vimeo, YouTube, Google Drive, Clouds, etc.
Enjoy up to 30 days of free trial for free users
Limitations:
Expensive individual one-time-fee at $274.99
3. Snagit
Well, if you don't have $274.99 and only need the basic video recording of gameplay or screenshot, Snagit, a little bro of Camtasia, is the right man for you. You can quickly add an annotation to your video and screenshot with ease and toggle between webcam and screen recording during a video. Overall, Snagit is a quick way to record your gameplay with many useful tools.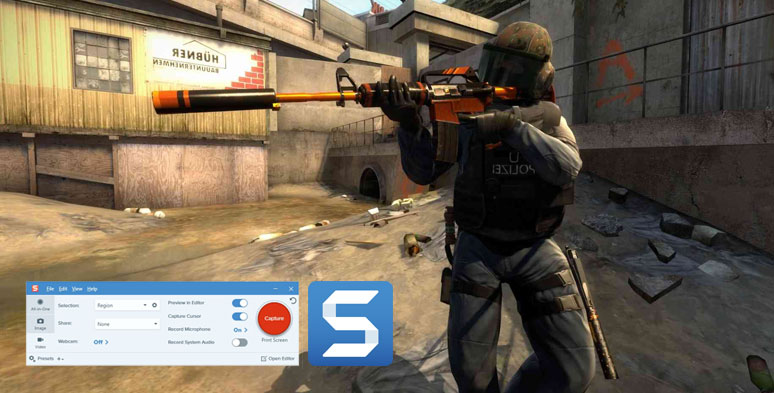 Use Snagit to record gameplay
Best Game Recording Features:
Record full screen, selected area, webcam
Record both system audio and mic audio
Customize the video recording resolution
Easily trim the gameplay recording
Quick and tons of pre-made screenshot tools
Save video recording to MP4 format
Limitations:
Comparatively limited recording features than screenshot features
Can't record screen and webcam simultaneously
Limited video editor features
4. Nvidia ShadowPlay
If you are a user of Nvidia Graphic Card, the best software to record gameplay is not OBS or pricy Camtasia. Instead, go with Nvidia ShadowPlay, a graphics-accelerated gameplay software most likely pre-installed on your pc just like the Xbox Gamebar on Windows 10. So, you can use Nvidia ShadowPlay to record amazing 4K gameplay videos, get high-quality screenshots, and live-stream to YouTube, etc. without costing a dime.

Nvidia ShadowPlay is the best game recording software for Nvidia GPU users
Best Game Recording Features:
Instantly record and replay gameplay at 60 fps up to 4K resolution
Record full screen and gameplay window
Easily live-stream your gameplay to Twitch or YouTube with simple clicks at up to 1080P 60FPS
Compatible with 3rd party application
Show detailed information such as FPS, camera output, viewers watching your live stream, etc. on your screen
Fully customizable keyboard shortcuts for screenshots, recording, and streaming
Limitations:
Only available to users using NVIDIA graphics hardware
Can't create the picture-in-picture effect for the gameplay video tutorial
5. Elgato Game Capture
Well, to record HD gameplay, sometimes, we need to think out of the box. Unlike the traditional solo game recording software, Elgato Game Capture allows you to connect its hardware, i.e. HD60 S ($179.99) with your gameplay devices like Xbox or PlayStation, and have Elgato game recording software installed on your pic to capture HD gameplay video recordings with smaller file size and do the live-streaming.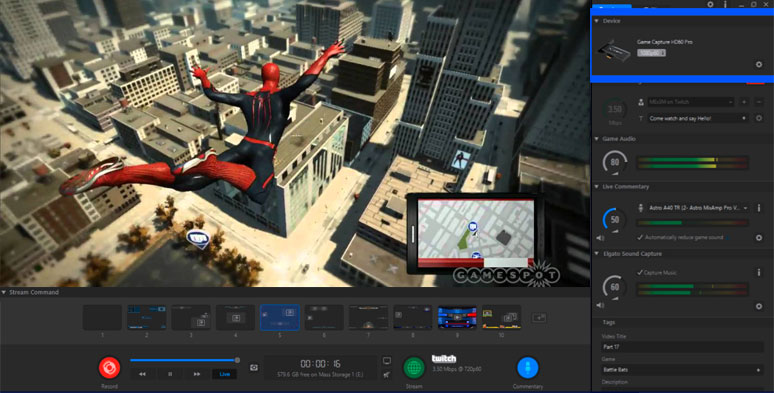 Record HD gameplay by Elgato Game Capture software
So, essentially, it's a combo of game capture devices and game recording software.
Best Game Recording Features:
Combine both game capture hardware and software to record gameplay at 1080P 30FPS
Advanced hardware H.264 encoding makes stable and reliable gameplay recording while having a smaller video size
Directly record Xbox and PlayStation gameplay video to PC (Windows, Mac)
Easy live streaming to YouTube and Twitch
Truly lag-free game recording software and perfect user experience
Limitations:
It costs you $179.99 for the gameplay capture device and extra HDMI cable and component adapter.
6. AMD Relive
The last but not least game recording software we would like to introduce you to is AMD Relive, which interestingly shares many similarities with Nividia ShadowPlay. For Radeon graphic card users, you can use it to record gameplay videos, take screenshots and do live and even VR streaming, and share your gameplay highlights with friends with ease.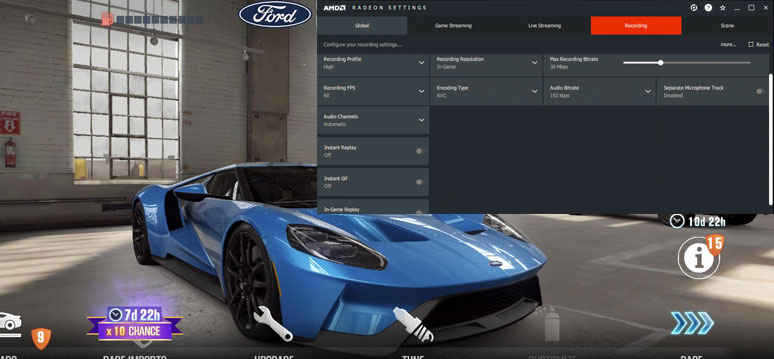 Use AMD Relive to record gameplay or do live streaming
Its easy-to-use interface allows you to quickly customize keyboard shortcuts to record and do live streaming, and manage different scenes.
Best Game Recording Features:
Record full screen, selected region, screen+webcam with system and mic audio
Quick global settings to customize all the hotkeys as to recording, audio capture, etc
Straightforward button for gameplay live streaming to YouTube, Twitch, Mixer, Facebook, etc. at 60FPS, 1080P
Capable of VR steaming with VR mobile headset
Create instant in-game replay and GIF
Limitations:
Only available to Radeon graphics card users
Final Thoughts
So, having discussed so many free and paid game recording software, which one is the best software to record gameplay for you? Probably, the answer depends on the exact pc game you are playing and your actual needs you have.
For low-spec pc games, sticking to a free and versatile game recording app as RecordCast or OBS should yield satisfactory effects, while for high-end pc games or Xbox, professional-designed game capture software like Bandicam, Camtasia, Nvidia ShadowPlay, Elgato Game Capture, etc. will fill the shoes.