We love Camtasia. Its amazing versatility for screen recording and video editing made it easy for video creation like how-to video tutorials and E-learning, etc.
However, not everyone has the budget to keep using it after the honeymoon of the 30-day free trial period, given its hefty price tag of $249.99.
So, If you are looking for the best Camtasia free alternatives with similar screen recording and video editing features, the following apps and software are worth trying.
Contents:
Best Camtasia Free Alternatives in 2021
To begin with, the candidates we picked for the best Camtasia free alternatives, should at least have the following features:
Have multiple options for screen recording
Record voiceover while recording screens
Easily edit your recording or video, like add annotation, etc
Completely free to individual users
Best Camtasia Free Alternatives in 2021
1. RecordCast (Windows, Mac, Linux)
As a completely free Camtasia alternative, RecordCast helps you capture your screen and edit recordings in simple clicks. With RecordCast, you can easily record your screen with both internal and mic audio and webcam and edit real-time recordings in its flexible online video editor, and export it in MP4 (1080P) to your local drive.

RecordCast is a free and user-friendly free alternative to Camtasia.
Who Is It for?
Since RecordCast is an all-in-one online video editor with an intuitive interface, you can create a screencast anytime, anywhere so long you have a laptop and internet access. So, it's highly recommended to everyone, esp. computer novices, traveling vloggers, teachers, business professionals, students, etc.
Best Features:
Record screen + webcam
(picture in picture effect), the entire screen, application, Chrome tab with both system and mic audio
Import audio, images, and video footage
Place recordings/videos on the timeline to be trimmed; add dynamic texts and elements, overlays, color backgrounds, etc.
Make and edit screencast locally, safe and secure
Free of malware, ads, and watermarks
No software download needed
Pricing:
100% free for use
RecordCast VS Camtasia:
Admittedly, though RecordCast doesn't have that many high-end features in Camtasia like zoom-in while recording or multiple video formats, it offers novice users a fresh and quick start for screen recording and editing. While its free service and no software to install feature make it one of Camtasia's best alternatives.
2. OBS: Open Broadcaster Software (Windows, Mac, Linux)
Often referred to as a gem for videographers, OBS Studio (or Open Broadcaster Software) is another highly competitive free alternative to Camtasia. Originally, it is built for recording live streaming and gameplay. With dozens of fully customizable options for streaming, output, audio, and video settings, it quickly became a great companion to video creators.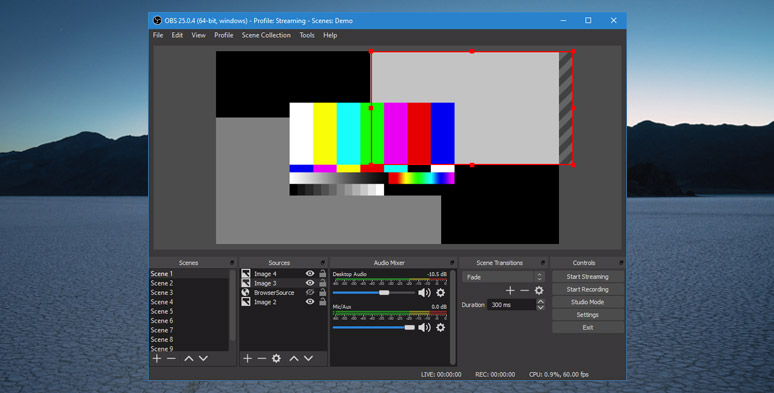 OBS is another highly competitive free alternative to Camtasia.
Who Is It for?
The multiple configuration options do help a lot for capturing screen and video editing, yet it may also confound the first-time users to figure out what these options for.
So, to some extent, it's more for users with a basic screen capturing and editing experience and those who use it record live streaming or capture the screen for gameplay. Once you know how to use it, you will find it a great free alternative to Camtasia.
Best Features:
Record high-quality screen and audio, including the entire screen, windows browsers, webcam, etc.
Set unlimited scenes to switch from/to
Suppress the noise with VST plugin support
Tweak literally every aspect for recording like bitrate, encoder, audio track, etc.
Customizable transitions for different scenes
Set hotkeys for recording and editing
Add basic text, image, and audio
Pricing:
100% free
OBS VS Camtasia:
Well, the obvious difference is that OBS is a completely free and open-source screen recorder available for Windows, Mac, and Linux users while Camtasia back $249.99. So, for low-budget video creators, OBS is a more viable option for day-to-day use. Look for top 8 Linux screen recorders.
As to screen capturing, Camtasia gives you more customizable options to set the exact size for screen capturing while recording and even change the setting for real-time recording. While for editing recordings, Camtasia is far powerful than OBS, given the fact that OBS focuses more on live streaming recording.
3. Kdenlive (Windows/Mac)
With a lightweight install package of 77MB, Kdenlive is a tiny and nifty all-in-one screen recorder and video editor you will fall in love with after you stop using Camtasia. Like OBS, Kdenlive is one of the best free open-source alternatives to Camtasia.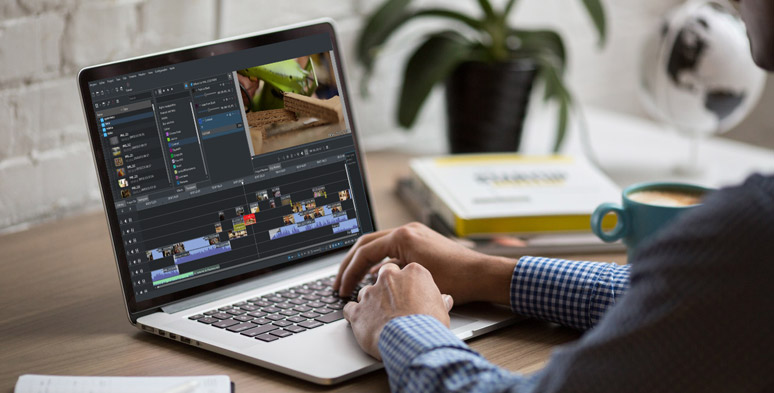 Kdenlive is an easy-to-use free alternative to Camtasia.
However, not many know that it can capture a screen with audio. To record your screen with audio on Kdenlive, you need to turn on the "Show Record Control" button on the drop-down menu of Monitor. Then, you are good to go.
Who Is It for?
Since Kdenlive can't record your webcam with a screen, Kdenlive is more for someone who needs basic screen and audio recording. Overall, Kdenlive leaves you with the impression that it is more like a powerful video editor with a bonus feature for screen and audio recording.
Best Features:
Capture entire screen and internal audio
Trim, split, and merge videos with transitions
Use the timeline to blend multiple videos and audios
Set hotkeys for video recording and editing
Find free online sources for fonts, transition templates, etc.
Powerful tools to rotate, zoom, add colors, etc.
Pricing:
100% free
Kdenlive VS Camtasia:
Overall, Kdenlive is nowhere close to the mighty Camtasia as to both screen capturing and video editing. However, with regards to the huge difference in price tag and the satisfactory video editor of Kdenlive, no one can deny the fact that it is a free and open-source alternative to Camtasia, esp. to individuals who only need basic screen recording and video editing.
4.VokoscreenNG (Windows, Linux)
VokoscreenNG or also known as VokoScreen is another Camtasia open-source alternative that works on Windows and Linux. Although it has no real-time video editing tools, VokoscreenNG offers you a pleasing screen capturing experience with its easy-to-use interface and plenty of handy options for screen recording.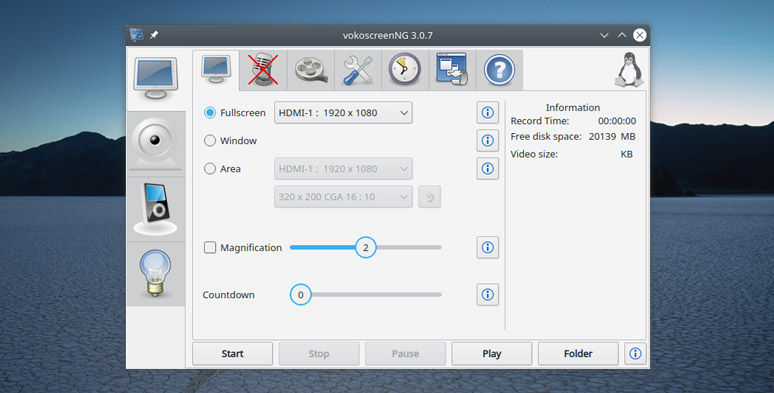 VokoscreenNG is another lightweight and versatile alternative to Camtasia.
Who Is It for?
Anyone who looks for Camtasia free alternatives for screen recording should use it. The simple and useful screen recording features of VokscreenNG, like a recording screen with a webcam and multiple recording modes, will bring big smiles to your face.
Since it doesn't have a built-in video editor, you can easily upload your recordings to the online video editor of RecordCast to add an annotation. So, VokoscreenNG is highly recommended for those who make how-to tutorials for YouTube or teachers and business professionals making online presentations.
Best Features:
Record full screen and selected area with system and mic audio, webcam, the mouse cursor
Customize webcam's direction, size
Multiple format output: MP4, MKV, WebM, Avi, MOV, etc.
Pricing:
100% free
VokoscreenNG VS Camtasia :
To sum up, VokoscreenNg is more of a simplified screen recorder of Camtasia than a full contender of Camtasia free alternative. Even though, its versatile screen capturing features still makes VokoscreenNG an ideal free alternative to Camtasia for screen recording. The only hassle would be you need to use another free video editor like RecordCast to add text or trim the recording.
Other than that, the user-friendliness and free service of VokoscreenNG are unbeatable, even when compared with Camtasia.
Final Thoughts
So, have you found any Camtasia free alternative or open-source software that makes you wanna switch from Camtasia to a similar yet free screen recorder and video editor?
Hopefully, you do. If you don't, don't hesitate to reach us and share your thoughts. For now, please feel free to use the above-mentioned Camtasia free alternatives like RecordCast to record and edit your screencast now.