In an age of remote work, how to look good on a webcam has become an issue of great importance to all of us.
Whether you are attending an online interview, making a presentation in a webinar, or teaching online classes, or hosting a podcast on YouTube, etc. you gotta look your best on a webcam.
So, in this post, we are glad to offer you some super helpful tips that will make you look more attractive and professional on a webcam.
Contents:
1. Make Yourself Presentable before the Webcam
To look good on a webcam, first and firstmost, is to make yourself presentable and look great before you turn on the webcam. Check the top 19 tricks to record a great presentation as a video.
Just as you are going out for a date with your Mr./ Miss Right, you don't expect to wear clothes that do not fit the scene or with greasy hair, do you?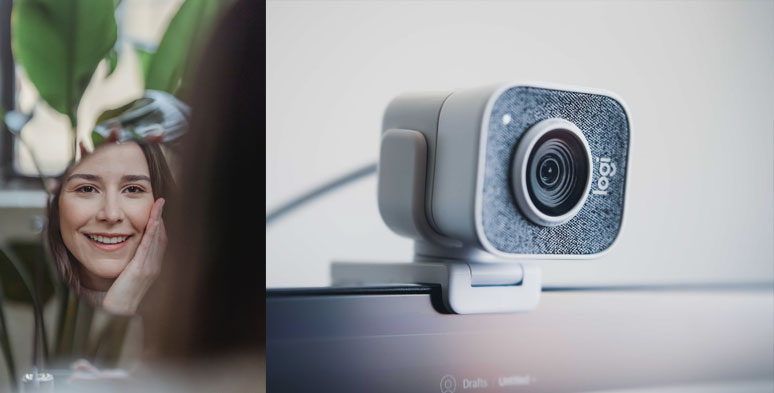 Make yourself presentable before a webcam
Particularly, on formal occasions like an online interview or video conference, wearing formal and elegant attire should be your go-to dress to show your respect to both the viewers and the meeting itself. Find out the best way to record an online interview for a podcast.
Dos:
For ladies, it is worth spending a couple of minutes to do simple and natural makeup; apply moisturizer to smooth your skin, swipe on Mascara to make your eyes more attractive on webcam; besides, do use blush to avoid the "wash-out face" when showing on the webcam, let's alone the helpful concealer.
For men, simply put, dress accordingly. For formal online meetings, a suit with a long-sleeved shirt of solid color should be your first choice to show your credibility and charisma. If it's a casual video chat, just dress as comfortably as you could.
Contact lens is preferred over ordinary glasses because it casts no reflection of your screen when captured by your webcam. Besides, it makes you look sexy and hot on the webcam.
Don'ts:
Don't wear dazzling and expensive jewelry. It does nothing but distracts the viewer's attention.
Don't forget to shave and wash your greasy hair, esp. to men.
Normally, don't wear striped/ dot clothes or any clothes that have a similar color to your that of the background should be avoided.
2. Place the Webcam Smartly
Wanna look thinner on a webcam? You gotta know the sweet spot to place your webcam on a monitor or laptop.
The best place to put your webcam: put the webcam in the center of your monitor or laptop and slightly above your eyes or equal to the level of your hairline.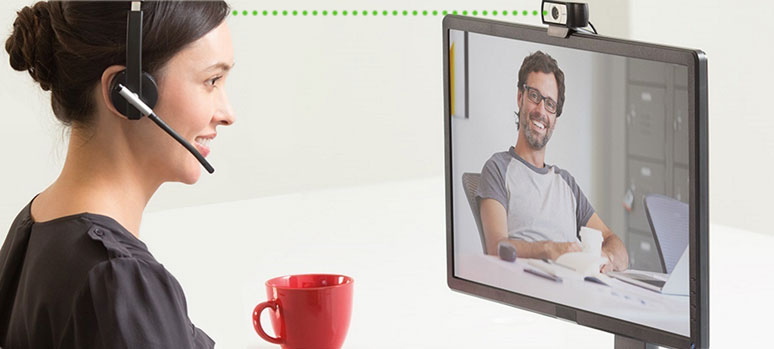 Properly place the webcam in the middle above the monitor
Dos:
If you are using a laptop, put it on the laptop stand or use books or anything available to raise the webcam to the height roughly equal to your hairline. By doing so, the webcam looks slightly above your eyes, making your face look thinner on the webcam.
Discover the best webcam recorders in 2021
.
Angle the webcam to have you positioned in the center of the frame and sit up straight facing the webcam, which makes you look professional and decent on the webcam.
As you speak in the video chat, make eye contact with the webcam as if you are speaking directly to the viewers. This helps you engage the viewers and establishes professionalism and trust in a conversation.
Don'ts:
Never put your laptop's webcam below your face unless you intentionally want to embarrass yourself and the viewers by showing your flaring nostrils and double chin as I have.
3. Don't Sit too Close to the Webcam
As most of the webcams are equipped with a wide-angle lens (roughly 60-90 degree field of view) and ofter not adjustable, this can exaggerate or distort parts of your face and limbs closer to the border areas of the frame.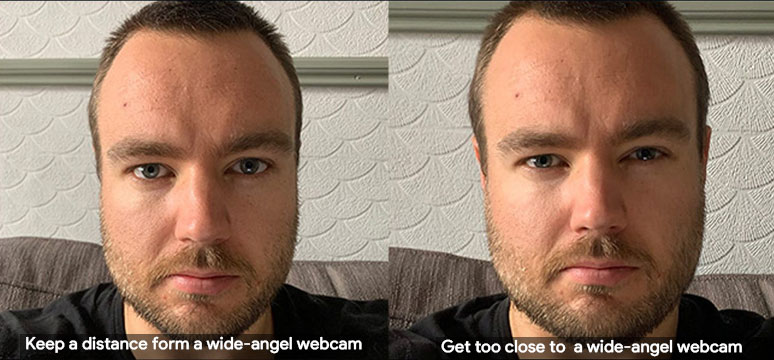 Lens distortion of a wide-angle webcam
So, it's advisable to keep an arm's distance from the webcam and position yourself in the center of the frame. By doing so, you will faithfully show your best look on the webcam as well as the surrounding background.
4. Find the Flattering Webcam Lighting
Once you've figured out where to put your webcam and your position, now let's move to the next big thing----webcam lighting. What we are looking for is steady, ample, and soft lighting.
You don't need the expensive studio light to lighten up your face. If you are at home or in the hotel, the easiest way is to grab a desk lamp available.
If this is for live streaming on Twitch or YouTube, it's recommended to buy an affordable ring light, which casts ample light to your face with a flattering catch light in your eyes. Check 3 best ways to record live streaming videos.
Here we have three popular webcam lighting setups recommended:
One light setup: Grasp a desk lamp or a ring light and place it right over the lens of your webcam. This gives you the perfect lighting for your face. Remember to center it along with the webcam.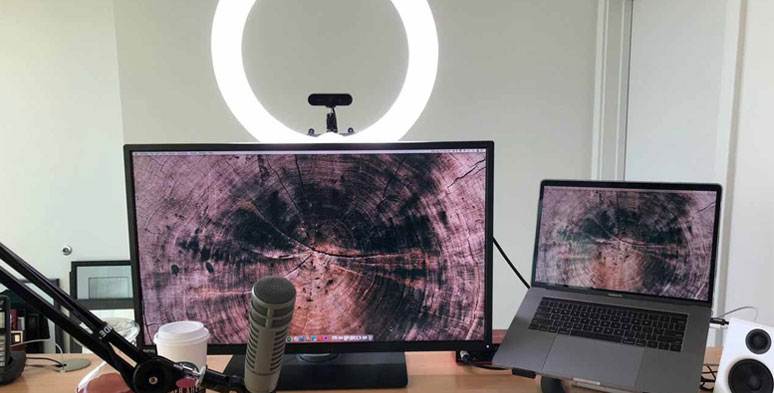 Have one right light for one light setup
Two lights setup: Put two adjustable lamps or LED lights at 45 degrees beside your laptop to create an even light over your face.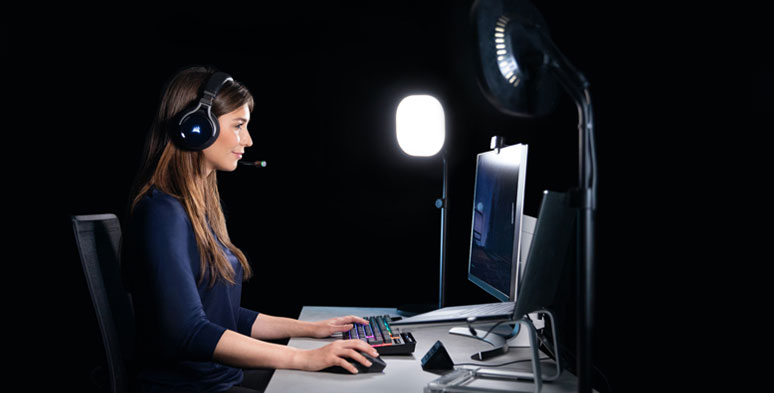 Use two lights setup for ample and even light over the face
Three lights setup
: Place the two lights at 45 degrees as the key light and then add an extra lamp behind or backlight to give you the pretty rim light to your hair and effectively separate you from the dark background. It is one of the most popular lighting setups by YouTubers for
making tutorial videos
.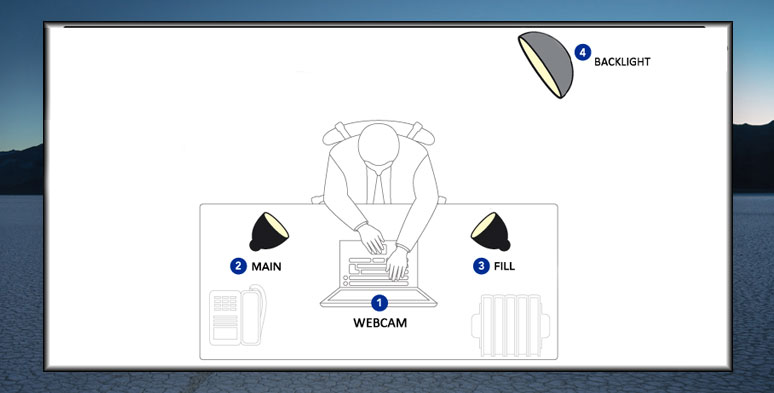 Three lights setup to add a pretty rim light to your back
Ok, here is what you don't expect to do:

Some bad examples of webcam lighting
Avoid overhead lighting. It casts unflattering shadows over your face, esp. under your eyes, nose, and mouth, making you look older and more serious.
Never have a light source from underneath, unless you wanna make yourself look like Frankenstein.
Don't sit before or next to the window, because this will create a strong shadow over your face or form the split lighting, both of which should be avoided for a video chat.
5. Never Forget About Your Background
Have everything ready for an online interview or corporate meeting, but forget to clean your cluttered room?
Bro, you will fail because it leaves viewers with the impression that you are an unreliable and unorganized man and do not take the meeting seriously enough.
So, make sure you have a clean, simple, and neat background when you are in the frame of the webcam. This brings you a better first impression and avoids distraction during the video chat.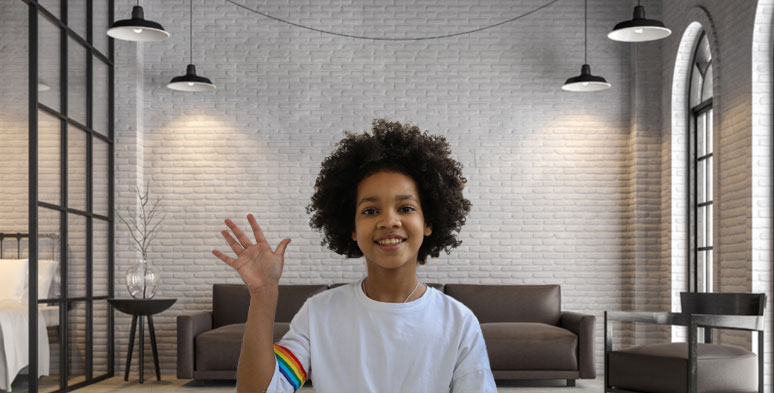 Use video chat virtual background to create clean webcam background
If you don't have time to clean your room or you are in a busy office, one flexible solution is to have a stand with a green screen. So you can easily select an ideal virtual background in Zoom, Microsoft Teams, or Skype to replace the messy background. Find out how to record a Zoom meeting as a participant.
6. Use External Mic and Speak in a Friendly & Calm Tone
Nowadays, quality video images and audio are inseparable. Though most laptops or desktop computers may have a built-in microphone, its ability to capture crisp and clear sound can't be compared with the cheapest external mic.
Every often, even if you look best on a webcam, with too much background buzzing sound captured by a webcam, the overall effect would also be compromised.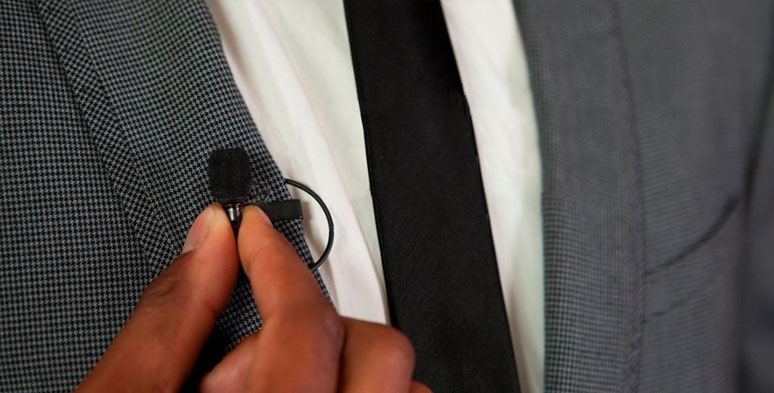 Use clip-on external mic to capture crisp and clear audio
So, it's highly recommended to buy an affordable clip-on mic like Boya M1( $ 19.6) to capture your natural sound, let's say for a podcast online interview. If you don't have time to get one, having iPhone's wired headphones plugged into your laptop for audio capturing will also do the trick.
Besides, don't forget to speak in a friendly and calm tone. It will make viewers feel rest-assured and build trust and confidence between you and other parties.
7. Get Better Webcams and Webcam Software & Apps
Well, apart from the subjective factors mentioned above to make you look good on a webcam, technically, having a powerful HD webcam and flexible webcam software and apps is another flexible option to instantly enhance your looks on a webcam.
Take the popular Logitech C920 HD webcam ($77.65), for example, it can capture full HD 1080P at 30fps, giving you smooth video quality with rich color, stereo audio, and autofocus and auto light correction features.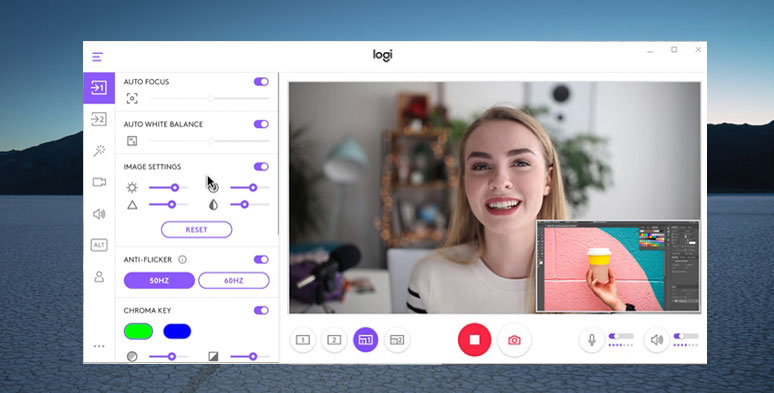 Use Logitec Capture webcam software to soften skin and adjust contrast,etc.
Besides, Logitech Capture, Logitech webcam's free and bundled webcam software, is about to bring more controls to how you look on a webcam. For example, you can use it to manually adjust the monitor's color temperature, reduce the webcam's sharpness, contrast and saturation to give you a clean and smooth skin texture.
8. Pre-record a Test Video and Make Minor Adjustments
Well, the last but not least tip is to pre-record a test video with a versatile webcam recorder and playback the recorded video to see where you can improve to have your best look on a webcam, whether is it your posture, camera angle, or the way you speak, etc.
A free and easy-to-use webcam recorder recommended for you is RecordCast, an in-browser screen recorder with a flexible video editor.

Use RecordCast webcam recorder to do a test video
With no software or extension to download, you can easily access its online screen recorder and select screen or webcam only to do the text recording. While both internal and mic audio can be recorded. And later preview your recording or directly download the recording to the local drive in WebM format.

Select webcam to record a test video by RecordCast webcam recorder
What is worth mentioning is that after you are done with the recording, you can import it to the powerful video editor to easily add text, dynamic emojis or filters, and transitions, or even import new media sources to create a compelling video in MP4 (1080P) format. It could be your great helper.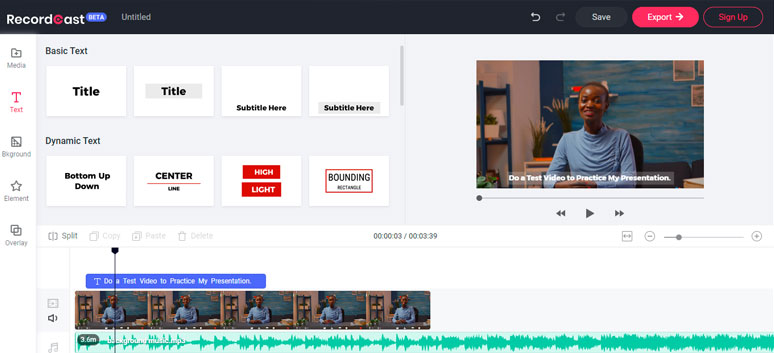 Use RecordCast's built-in video editor to edit recorded test videos
Final Thoughts
So, hopefully, our ultimate guide to how to look good on a webcam can help you look your best on a webcam or even assist you in finding a new job through an online interview, etc. If you have better solutions to look good on a webcam, don't hesitate to reach us on our official Facebook. Your suggestions and advice are always more than welcome. Now, start recording a test video with our practical tips.